Several factors will determine your trading success – choice of stock being a major one. Netflix stock is widely popular hence a good option. Thanks to its net subscriber additions resulting in its shares experiencing an upward trajectory. As a result, it has been enticing to many new investors, and the thought to invest in Netflix is just unignorable.
This guide will show you a step-by-step procedure on how to buy Netflix stock. It will also look at the benefits of such an investment and compare the top three suitable Netflix brokers. Additionally, we will give you tips on choosing a stockbroker that matches your needs. Lastly, you might be asking: is Netflix shares a good buy? Read on to find out.
Top 3 Brokers for Buying Netflix Shares
Like any other trade, you need a reliable online broker to buy Netflix shares. But, most importantly, your choice of broker should have access to the NASDAQ stock exchange or provide derivatives to trade Netflix shares. NASDAQ lists Netflix shares with a ticker symbol NFLX.
There are many stockbrokers in the market, and settling on one that will meet your trading needs might be challenging. Investors should consider several factors ranging from special offers, investments options, trading platforms, and so on. We have simplified the process for you by reviewing the top three best brokers to trade your Netflix shares.
1. eToro
eToro is among the best social and copy trading platforms. If you are an inexperienced Netflix trader, you can discuss strategies with the knowledgeable online community in real-time. In addition, you can copy successful Netflix investors and perform as well as they do. eToro's trading platform is user-friendly with a choice of web platform and mobile app. Thus, buying and trading Netflix stock is easy, straightforward, and commission-free.
One of the main drawbacks of eToro is its trading account, whose base currency is in USD. Therefore, you will have to pay for currency exchange when depositing and withdrawing. In addition, the broker charges fees for withdrawals and its spreads are also high.
2. IG Markets
IG markets is among the most celebrated and trusted online brokers globally. The broker draws its reputation from the regulation of several top-tier regulators across different jurisdictions. Thus, IG Markets is safe for buying Netflix shares. With its award-winning platform, you can trade Netflix shares and CFDs and over 17,000 other different markets under one login. In addition, you have the opportunity to enjoy advanced features, including the L-2 Dealer, ProRealTime, and MT4 platforms.
On the downside, IG Markets has a high minimum deposit balance of £300. What's more, its trading costs are relatively high and has a £50 quarterly subscription fee if you do not trade more than three times within three months.
3. AvaTrade
Avatrade has specialised in trading CFDs and forex, making it qualify as one of the best picks for trading Netflix shares as CFDs. Just like eToro, it provides for copy and social trading. You can easily copy Netflix trades from experienced investors and make profits when they do. With AvaTrade, your research process is made easy for you. All the relevant educational materials on Netflix are available.
On the downside, AvaTrade's product portfolio is limited. As a result, it will only allow you to trade CFDs on Netflix and deny you the opportunity to buy the shares from the exchange.
How to Buy Netflix Shares With eToro?
Buying Netflix shares or any other shares might appear to be easy (and it can be). However, the wrong choice of an online broker might complicate the process. The three online brokers discussed above have a pretty straightforward buying procedure. Below, we will guide you on how to buy Netflix shares in the UK with eToro.
Step 1: Sign up for eToro
Step 2: Complete Profile
Step 3: Make an Initial Deposit
Step 4: Learn the Platform
Step 5: Buy the Stock
Signing up for a trading account with eToro is a pretty straightforward procedure. No lengthy paperwork is involved. Instead, you simply sign up by entering your personal details and choosing a username. In addition, you provide your phone number, email address, age, and more details for account safety purposes. Once the process is complete, the account is up for real-time trading upon completion of your profile.
This step is vital for your account protection. It covers your essential personal identification. You will be required to upload and submit proof of identity. Examples are; valid passport or any other form of an officially issued photo. In addition, a confirmation of your residence is also mandatory, such as a valid utility bill or bank statement dated to the last three months.
You then fill in a questionnaire to help eToro custom-tailor a service package for you. The verification process takes a few hours to a few days, and eToro will notify you once the account is verified. A green tick next to the user's username indicates a verified account. eToro sends a detailed email with reasons in the case of rejected documents.
Funding your eToro account is a simple process. All you have to do is log into your account, click 'deposit funds,' enter the amount while selecting the currency. Then, finally, choose your preferred payment method, whether debit/credit card, e-wallet, or bank transfer.
The deposit process is safe and secure, with your personal information kept safe. The minimum first deposit on eToro is £50 for UK traders.
It is crucial to familiarise yourself with eToro's platform. Remember, you can switch from the demo account to the real account by clicking an icon under your profile name. So, as mentioned earlier, make use of the £100,000 in virtual money offered on the demo account. Use it to try the different trading strategies you intend to use when trading live.
There are various ways to trade Netflix shares on eToro. That is by taking ownership of the physical asset, trading them as CFDs or indices. Therefore, choose the number of shares you can afford and complete your purchase. Finally, select the correct order type and remember to always stay abreast with Netflix share price performance to know when to open and close positions.
Tips on How to Choose the Best Stock Broker to Buy Netflix Shares
Your choice of an online broker will matter to a large extent, determining your Netflix trading success. Brokers offer different features, and it is crucial to settle on one that meets your trading needs. There are several factors to consider when choosing an online stock broker. Below are a few important to consider before buying your Netflix shares.
A broker's reputation and safety features should be critical to you. So settle on a broker with high rankings and reviews. Reputable brokers are those that top-tier financial regulators oversee, stock brokers in the UK should be regulated by the Financial Conduct Authority (FCA). It would be a shame to get yourself in a scenario where an unscrupulous broker scams you. Also, note that you can only open a brokerage account with an online broker permitted in your country
NASDAQ lists Netflix shares under the ticker symbol NFLX in its exchange. You will need a broker to provide you with access to this exchange if you intend to buy Netflix shares and take full ownership of the assets.
However, if you are trading the shares as derivatives, ensure the stock broker allows you to do so. Unfortunately, not every online broker has access to NASDAQ. Settling on such can only mean you get to trade Netflix shares as derivatives (CFDs), which can be disappointing for traders looking to take ownership of the underlying asset.
Choose a broker that will provide a user-friendly trading platform. You would want a fast execution time platform, which comes in handy for short positions. Trading tools are also another vital aspect of a platform. Settle on a broker whose platform readily provides for such tools.
In addition, factor in the type of research and educational tools you might need to succeed for your Netflix trade. In addition, a demo account will be necessary if you are a new trader. Consider that on your choice of broker.
Most traders work with a fixed budget, so pick a broker that fits right into your budget. It will not make sense to end up losing money to broker charges. Carefully consider the commissions and fees charged by the brokers for conducting Netflix trading. Also, consider the margin rates that they offer.
Investors working on a low budget should consider brokers who offer leverage and fractional shares. Most, but unfortunately not all, brokers in Uk offer this service.
Brokers offer different types of accounts. Your investment purpose should drive the kind of account hence your choice of broker. For example, if you have a long-term investment purpose, such as your retirement, open an individual retirement account (IRA). On the other hand, taxable investment accounts are suitable for investment for short-term goals.
Netflix Shares Price Today
You must be asking yourself what Netflix share price is and how much it is to buy Netflix stock. Fortunately for Netflix, the share price has continued rising despite the economy's condition. Thanks to the company's way of controlling the churn predicted by analysts. It has come up with new ways of keeping people away from pay-TV. It has achieved this by venturing into other fields such as video gaming. As a result, today, the Netflix share price stands at £657.58. A share price better than the record posted in the middle of the pandemic.
About Netflix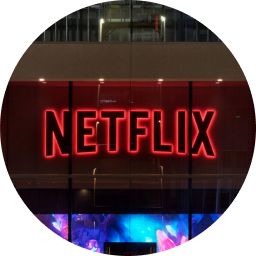 Netflix is an American-based company founded in 1997 by two entrepreneurs, Reed Hasting and Marc Randolph. It has its corporate headquarters in Los Gatos, California. The company started as a subscription DVD by mail service and has undergone several transformations.
Today, it has a commanding lead in the streaming video market. As a result, it has led to investors bidding up its stock. Besides providing subscriptions to streaming movies and television episodes over the internet, It has maintained its initial DVD mail services. It operates under three segments, domestic streaming, international streaming, and domestic DVD.
The company boasts a paid streaming membership of over 213 million subscribers. The subscription is across over 190 countries with various genres and languages.
FAQs
Can you buy shares on Netflix?
Yes. All you need to do is find a reputable online broker with access to the NASDAQ exchange. Then, open a stock trading account, fund it, and buy the shares.
Who owns most shares of Netflix?
The Vanguard Group, Inc. holds most shares in Netflix, with 31,506,597 shares translating to a shareholding of 7.11%.
Does Netflix have any subsidiaries?
Yes. Netflix has several subsidiaries within the US and in other jurisdictions, including the Netherlands, Japan, UK, France, and Germany.
Which country owns Netflix?
Netflix Inc is an American-based company that was founded by two American entrepreneurs-Reed Hastings and Marc Randolph, in 1997. It has its headquarters in Los Gatos, California, United States.
Does Netflix make a profit?
Yes. The company has doubled its year-to-year profits. In addition, its first-quarter bottom line had an improvement of 140% on net income.
Does Netflix pay dividends?
No, Netflix does not pay dividends. One of the main reasons for this is that most of the profits that the company makes are reinvested into the company and for production of new shows and movies. Therefore, you shouldn't expect Netflix to start sharing their profits with shareholders any time soon.
Can you buy shares on Netflix?
Who owns most shares of Netflix?
Does Netflix have any subsidiaries?
Which country owns Netflix?
Does Netflix make a profit?
Does Netflix pay dividends?
Conclusion
Netflix Inc. has maintained a commanding lead in the online movie rentals and home video market industry. As the leading streaming service provider, its stock is always in the limelight. As a result, investors are always eager for any updates on the business trajectory. Luckily, the company just released its latest quarterly numbers, indicating that it is financially strong.
The financials stand out because the company no longer needs external funding to run its day-to-day operations. In addition, the management believes it will sustainably produce cash flow on an annual basis, starting 2022. This is after breaking even on free cash flow in 2022. Thus, this is a strong indication that the company is turning around financially.
Are you still sceptical about buying Netflix shares? We are hopeful that the guide has given you many reasons to be optimistic about the streaming leader.