Copper is a metal used in electrical equipment, including wiring and semiconductors. It plays a significant role in construction and industry machinery, making the commodity popular among investors. The commodity is less expensive than other metals like gold and silver — a more reason why investors find it appealing and look for ways to invest in it.
There are various ways to invest in copper, which you will learn in this guide. If you are looking for the best copper stocks to buy in 2022, we list the top ones based on our analysts' recommendations. Additionally, more information is included to ensure you are fully prepared to dive into the commodities market, invest in copper, and hopefully succeed at it.
Top 3 Brokers for Investing in Copper
You need a reliable and legitimate stock broker to invest in copper in the UK. However, how do you identify the best broker to increase your chances for profits? Well, extensive research that involves broker reviews and comparison is required. Since this research process can be overwhelming and time-consuming, our professional analysts did all the legwork and recommended below the top three brokers for investing in copper.
1. eToro
Copper investing with eToro allows you to enjoy excellent tools for market analysis and skills development. For instance, you can start your copper investing using eToro's demo account. Alternatively, simply make a minimum deposit of £50 per the broker's requirement and access copper to complete your purchase. eToro also allows you to trade copper as CFDs and futures contracts.
The best thing about investing in copper with eToro is that there is no deposit fee, and you get to trade copper shares commission-free. What's more, you have access to more assets, including forex, more commodities, cryptocurrencies, etc., for portfolio diversification.
On the flipside, eToro charges a high spread for copper investment. On top of that, the copy trading platform requires a minimum deposit of £300, which most investors consider high. There are also withdrawal fees.
2. IG Markets
IG Markets has been serving global clients since the 1970s, and its presence among investors is due to the plethora of quality tools it hosts. Besides copper investing, the broker allows access to over 17,000 additional assets to try and see where new opportunities lie. In addition, you get to experience copper investing on advanced platforms, namely ProRealTime, L-2 Dealer, and MT4.
Sadly, IG Markets charges high fees for trading and investing in copper. You also need to make a minimum deposit of £300 to access copper. With these high fees, we encourage you to start your copper investments on its demo account until you are ready to try the real market. The broker's quality tools are definitely worth investing with so give it a try.
3. Pepperstone
Pepperstone is one of the most affordable brokers for investing in copper, especially when it comes to commissions and spreads. Additionally, it has user-friendly platforms, including cTrader, MT4 and MT5. Not only do these platforms have fast order execution speed, but they support you with quality tools for technical and fundamental analysis. Moreover, new traders and investors can build their skills using quality learning resources and a social trading platform for sharing investment ideas.
Regarding Pepperstone's pitfalls, you can only trade copper as CFDs. The broker also requires a minimum deposit of £200 to invest in copper, which can be costly for low-budget traders.
How to Buy Copper With eToro
The above three brokers will give you the best trading experience by letting you trade under the best conditions and supporting your investment activities with adequate resources. First, however, you need to know how to buy copper with them.
Below you find the step by step procedures on how to buy copper with eToro. Of course, you can apply them on any other FCA regulated broker since we only use eToro as an example.
Step 1: Visit the Broker's Website
Step 2: Complete Account Registration and Basic Knowledge Test
Step 3: Verify Identity and Address
Step 4: Make the Required Deposits
Step 5: Buy Copper
To visit eToro's website and create a trading account, click on any links we've shared to redirect you there. Note that eToro also has a reliable trading app to help you manage your investments on the move. So, ensure you download it from Google Play or the App Store to never miss out on any trading and investment opportunities.
You will then be required to complete the account registration process, which usually takes a few minutes. Before you do, we advise you to understand eToro's terms and conditions to avoid misunderstandings once you are already invested in your activities. Then, create your trading account by sharing personal details as the broker requires, including full names, date of birth, location, email, phone number etc.
Since eToro cares about the well-being of its clients, it selects the best trading package for you. This trading package will be determined based on how you conduct the simple knowledge tests it provides. On top of that, you will engage in a margin trading test for the broker to determine a suitable leverage limit.
The Financial Conduct Authority mandates all its regulated brokers to have all clients verify their identities and location to keep online trading and investment safe and secure. eToro is one of the FCA regulated brokers, and for this reason, it conducts the same procedure. In this regard, you will share a copy of your ID card, driving license or passport for identity verification. Furthermore, the broker will request a copy of a recent utility bill or bank statement to verify your location.
Every broker has its own minimum deposit requirement, and for eToro, you only need to deposit at least £50 to buy copper. After eToro confirms your deposit, you will be given access to the commodity and complete your purchase. Remember that eToro allows payment via various payment methods, so confirm and use the most convenient.
Make sure you select the right amount of copper that you can afford before clicking the purchase button. In addition, conduct a thorough market analysis on copper to develop the best strategy. Failure to do so can bring about financial losses. Besides buying copper, eToro allows copper stock investment and trading the commodity as CFDs, ETFs, or futures contracts. Therefore, understand how the commodity works and choose the best trading method for you.
Tips on How to Choose the Best Stock Broker to Invest in Copper
Copper is one of the top commodities investors use to store wealth and hedge against existing investments. For this reason, you need the best broker that will increase your chances of profits. Since finding such brokers can be an uphill climb for most investors, we share below tips on choosing the best stock broker to invest in copper in the UK.
Your funds' safety should be something that should never be overlooked when investing in copper. You see, not all brokers are legitimate, and if you are not keen, you may end up losing your hard-earned money to scammers. Therefore, always settle for FCA regulated brokers since they allow you to trade under the best conditions. In addition, using such brokers is the only legal way to invest in copper, and it's easy to take legal action against them in case of a disagreement.
The cost of using a broker to invest in copper should fit into your budget to avoid extreme financial losses should an investment go against your plans. Remember, while investing in copper can be lucrative and bring about profits, losses are inevitable. Therefore, choose a stock broker by considering trading and non-trading fees. You should trade with the amount you are comfortable losing.
Whether you are a newbie or a professional trader, you need a user-friendly platform that supports you with excellent resources for upgrading your skills and market analysis. In addition, the platform should have a demo account where you can test the broker before investing real money. Since we usually encourage our readers to stay abreast with trending news regarding different financial assets, ensure you consider a broker with a trading app. This way, you also get to monitor your investments and make the best decisions when need be.
Availability of copper should be your primary drive when choosing a stock broker in the UK. As an investor, consider diversifying your portfolio with other assets. This can only be done when you choose a broker with additional securities, including forex, more commodities, cryptocurrencies, etc. As a result, you can easily try new markets without going through the lengthy research processes of finding a new broker.
Many traders and investors overlook this element while it is as important as others mentioned above. You see, trading challenges are bound to occur even for the most experienced investors. Therefore, it is always advisable that you prepare to handle them when the time comes. That being said, choose a stock broker with reliable and dedicated customer service to guarantee quick solutions to such challenges.
Many traders and investors in the UK do not know the best methods for investing in copper. When using a stock broker, you have various options to choose from depending on how well you understand them and the risks involved.
One of the common methods of investing in copper is via stocks. Copper stock trading is the most popular in the UK since you only need to identify the best copper stocks to buy. In addition, most brokers allow copper stock trading as CFDs where you do not take ownership of the underlying asset but speculate on its price movements. Traders looking for limited risk options can trade copper stocks as ETFs futures contracts.
Another way to invest in copper stock is by buying it as coins and bars. Here, you take ownership of the commodity and sell it when its price increases. However, this copper investment method is not common among investors as owning it means securing safe storage and insuring the commodity in case it is stolen or destroyed.
Copper Stock Price Today
Investing in copper requires thorough market analysis to maximise your profit potential. This also means knowing the current share price of copper to create the best investment strategy. The live chart below shows today's copper share price and historical data. Feel free to use it in your analysis to stay on top of your investment activities.
Best Copper Stocks for 2022
You may now know how to invest in copper and the top brokers to get you started. However, are you fully prepared with the right stocks to invest in 2022? Well, we took our time to handpick the best copper stock based on thorough market analysis. We advise you to compare them and conduct further research to choose the one that can potentially earn you profits.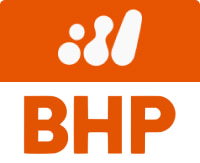 BHP Group
Founded in 2001. BHP Group is a multinational mining company based in Australia with multiple operations in Chile. Besides mining copper, it specialises in nickel, iron ore, potash, metallurgical coal, and petroleum. Its revenue for last year increased, and 2022 also looks promising for BHP Group, especially now that it has solid plans to expand and meet growing copper demand. You can trade the company shares through the broker with access to the Australian Securities Exchange, where they are listed. Another benefit of investing in BHP Group shares is that you get to earn annual dividends.
Southern Copper Corporation
Southern Copper is one of the largest copper mining companies globally. Founded in 1952, it is a subsidiary of Grupo Mexico and produces copper, zinc, lead, molybdenum, silver, and coal. Southern Copper Corporation is headquartered in Arizona, the United States but mines, smelts, and refines its products in Chile, Peru and Mexico. With the company's recent approval of large scale projects, we expect significant copper production growth in the coming years. It also pays annual dividends to investors.
Glencore
Glencore is a commodity trading and mining multinational company headquartered in Switzerland. It conducts copper mining in Africa, South America and Australia and recycles the commodity's scrap in North America and Asia. Besides copper, Glencore also produces cobalt, zinc, nickel, lead, etc. Its shares are listed on the London Stock Exchange (LSE). The company plans to extend its services across other regions globally, and its ability to sustain its presence since 1974 indicates excellent growth potential.
Teck Resources Limited
Tech Resources is one of the pioneer natural resources companies based in Canada. It focuses on producing copper, steelmaking coal, and zinc. Investing in this stock can be profitable in the long run as the company strives to increase its output by 102% in 2023. This forecast is driven by various projects it has recently taken on to meet the growing demand for copper.
Freeport-McMoRan Inc
Freeport-McMoRan Inc is an international copper mining company located in Arizona, US. It also focuses on gold and molybdenum production with a portfolio of assets, including the Grasberg minerals district in Indonesia. Other large-scale mines Freeport operates are in Peru, Chile, Arizona. Like the above four copper stocks, the company pays dividends to its shareholders. With its solid plans to expand its copper production and supply in 2022, investors looking to put their money in the stock have a potential for profits.
FAQs
Is investing in copper a good idea?
Yes. Copper is a valuable asset in various industries, and its ability to remain popular together with its low cost makes it an excellent choice for investment. However, before investing in this commodity, ensure you find the best broker that will allow you to explore your capabilities. 
How do I invest in copper?
There are various ways to invest in copper using online brokers. For instance, you can buy physical copper or its stocks from company producers. Additionally, most stock brokers will allow you to trade the commodity as CFDs, ETFs, and futures contracts.
What is the best copper ETF?
There are various copper ETFs to choose from, and the best one depends on how well you understand an ETF.
Can I buy copper stock?
Absolutely. There are various companies in the mining business that offer stocks for investment. Simply make sure that you fully understand the company stock and have conducted enough research before buying.
Does copper have a stock symbol?
Yes. Copper stock symbol is HG, and they are listed on various exchanges globally.
Who is the biggest copper producer?
Codelco is the biggest copper producer based in Santiago, Chile. It is a state-owned company marketing and selling copper to Asia, the US and Europe.
Is investing in copper a good idea?
How do I invest in copper?
What is the best copper ETF?
Can I buy copper stock?
Does copper have a stock symbol?
Who is the biggest copper producer?
Conclusion
Generally, investing in copper is risky, whether you buy physical copper or invest in its stocks. In this case, you need to take precautionary measures to mitigate these risks that can potentially make you lose your money. One way to invest in copper safely is by conducting extensive research and being sure of your copper investment method and strategy. In addition, find a reliable broker like these we recommend above. Finally, we advise you to start slowly with small amounts of money until you are fully confident to risk a more substantial amount.