Starbucks Corporation is the biggest coffee chain globally and the second largest coffee company after Nestle, thanks to its high-quality products offered at an affordable price. The company's aggressive growth keeps attracting investors' attention looking to buy Starbucks shares. Note that Starbucks shares are volatile and profitable if you have a strategic plan to trade them. Most importantly, you need the best stock broker to maximise your potential.
We have prepared this guide to walk you through the steps of buying Starbucks shares. At the end of it, you will understand what it means to be a shareholder of Starbucks and whether they are a good investment. Additionally, we have recommended the top three brokers to use for purchasing the Starbucks shares. And if you want to find a stock broker on your own, we also guide you through the elements to look at.
Top 3 Brokers for Buying Starbucks Shares
If you have trading experience, you probably know that you need the best stock broker to buy Starbucks shares. Keep in mind that Starbucks shares are purchased on the NASDAQ exchange, and using an online broker means that you can trade Starbucks shares off the exchange or as derivatives (CFDs).
We understand that finding the best stock broker in the UK is a challenge that most traders experience. For this reason, we conducted extensive research and multiple tests to recommend the following three brokers for buying Starbucks shares with.
1. eToro
eToro is an excellent choice for newbies and expert traders alike. It is the best for copy trading and allows you to interact with other global traders on a social platform. Additionally, trading Starbucks shares as CFDs with eToro is commission-free. You can also diversify your portfolio using other assets offered, including forex, commodities, cryptocurrencies, and more.
On the downside, eToro's spreads are relatively high compared to what other stock brokers charge. Although eToro's minimum deposit requirement is £50, accessing the copy trading platform requires a deposit of at least £300. The minimum amount per trade is also £500. What's more, the broker also charges withdrawal fees.
2. CMC Markets
CMC Markets allows you to spread bet or trade CFDs on Starbucks shares commission-free. There is no minimum deposit required, meaning that you can trade Starbucks shares with any amount you can afford. Additionally, CMC Markets hosts excellent research and educational materials on its Next Generation and MT4 platforms to improve your trading experience.
Other than the Starbucks shares, CMC Markets hosts additional 8,000+ shares. You can also trade other assets, including forex, indices, commodities, ETFs, cryptocurrencies, and more.
Unfortunately, CMC Markets does not allow you to buy and own Starbucks shares since you can only trade them as derivatives. Its customer service can also be improved as it operates only five days a week.
3. AvaTrade
AvaTrade is one of the best stock brokers in the UK for trading Starbucks shares. Not only does it have a user-friendly platform, but it also features social and copy trading, just like eToro. You will also benefit from quality trading tools on the MT4 and MT5 platforms. In addition, the AvaTradeGO app is among the most highly rated on Google Play and the App Store, so ensure you install it on your mobile device to easily manage your activities.
Like CMC Markets, AvaTrade allows trading of Starbuck shares as CFDs only, hence denying you the opportunity to purchase the shares from the NASDAQ exchange.
How to Buy Starbucks Shares With eToro
Buying or trading Starbucks shares is a challenge, but it can be easy when you have the best stock broker in your corner. The above-referenced stock brokers are reliable and have straightforward buying procedures. Let's discuss how to buy Starbucks shares with eToro.
Step 1: Sign up for a Trading Account
Step 2: Verify your Identity
Step 3: Fund your Account
Step 4: Find the Starbucks Shares
Step 5: Choose the Number of Starbucks Shares
It's easy to sign up for a trading account with eToro. Therefore, follow the links provided on this page and be redirected to eToro's website. You can also download the broker's app from Google Play and the App Store. You will then start your registration by entering your personal details such as name, age, phone number, email, and more. You will also choose a username.
To ensure that your account is protected, eToro will require you to verify your identity to start trading, which is a standard procedure for all FCA regulated brokers. This is in regards to the stringent regulations of the Financial Conduct Authority (FCA). Therefore, you will upload a copy of your ID, passport or any other officially issued photo. Additionally, eToro will require a copy of your recent utility bill or bank statement to prove your place of residence.
eToro also has a questionnaire to fill in order to select the best service package for you. There is also a basic knowledge test regarding margin trading to determine your leverage limits. Keep in mind that verification can take up to two days to complete, and a notification will be sent to your email upon approval.
Once your account is verified, you will be free to make a deposit and start trading the Starbucks shares. For eToro, only a £50 minimum deposit is required to access the shares. Do not worry about your personal information or deposited funds getting exposed because eToro is highly encrypted and regulated.
You will then find the Starbucks shares on eToro's platform and decide how you want to trade them. eToro allows you to buy the shares and take ownership or simply trade them as CFDs or in the shape of an index combining several stocks in the same investment.
When buying Starbucks shares, you need to select the number of shares you can afford. If you want to trade the shares as CFDs or indices, set aside the right amount of money and ensure you are aware of the risks involved before trading.
Tips on How to Choose the Best Stock Broker to Buy Starbucks Shares
Choosing the best stock broker goes a long way in determining your success in trading Starbucks shares. Stock brokers in the UK feature various elements, meaning that not all of them will match your trading needs. To avoid committing to a wrong broker, here are the essential factors to consider when choosing a stock broker to buy Starbucks shares in the UK.
It is crucial that you choose a broker that is reputable and observes all the security measures to safeguard your trading funds. In this regard, the best stock broker in the UK should be licensed and regulated by the FCA. Trading with unlicensed and unregulated brokers is illegal and risky for your trading funds.
The way a stock trading platform executes trades matters when trading Starbucks shares. You want a broker with a fast order execution speed and hosts different research and learning resources. If you are a newbie, a demo account is necessary for practising stock trading and testing a broker before creating a live account.
Make sure the stockbroker you choose allows Starbucks shares trading, whether as physical assets or derivatives. You also want a broker that will enable you to trade any time of day. So, consider one that allows trading using desktop and mobile devices.
A broker's trading and non-trading charges should fit into your budget. Therefore, confirm commissions and spreads, transaction charges, minimum deposit requirement, margin rates, and more. Some brokers in the UK have hidden charges, so ensure you leave no table unturned until you are sure of all the costs to incur.
The best stock broker should have dedicated customer service representatives to help you manage any trading issues quickly. Make sure their availability matches your trading schedule and can be contacted via convenient channels.
The choice of a stock broker will solely depend on your trading needs. However, consider the opinions of other traders before making the final decision. Previous and current traders' experiences will help you understand a stock broker's strengths and weaknesses, hence making the right decisions.
Starbucks Shares Price Today
Currently, Starbucks share price is valued at around £112. By using the live chart below, you can easily track the performance of Starbucks (SBUX) stocks. With this chart, you will also access historical information and other data that will help you make informed decisions.
About Starbucks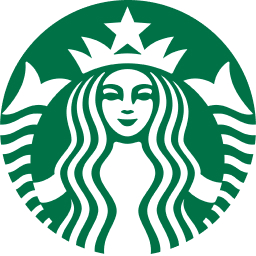 Starbucks corporation is a coffee roaster and retailer company founded in 1971 in Seattle, Washington, United States. At first, the company offered fresh-roasted coffee beans, tea, and spices gathered from various global regions. However, after Howard Schultz joined Starbucks in 1982, it began experiencing steady growth and expanded to Chicago, Vancouver, California, New York and Washington, DC.
Starbucks services became a favourite to many, making it extend its services to other global regions. To date, the company has over 33,000 coffee houses scattered across over 83 markets worldwide. In fact, it is the biggest specialty coffee marketer globally, offering ready-to-drink beverages, food products like pastries and sandwiches, whole roasted coffee beans, ground coffee, iced tea, and more.
FAQs
Is it a good idea to invest in Starbucks stock?
Yes. Starbucks revenue has been increasing throughout the years, and we believe buying its shares is a good investment. However, always conduct extensive analysis first and not depend on other investors' predictions. A choice of a stock broker is also imperative to your success, and luckily, we have recommended the best three above.
Does Starbucks stock pay dividends?
Yes. Starbucks pays all of its shareholders cash dividends on its common stocks. Currently, shareholders are paid £0.49 per share on a quarterly basis.
Is Starbucks a good dividend stock?
Yes. Starbucks is a good dividend stock thanks to its excellent track record and increased revenue.
How many years has Starbucks paid a dividend?
Since its establishment in 1971, Starbucks has been committed to sourcing and roasting high-quality coffee until 2010, when it saw the need to start paying dividends to its shareholders. The company increased its quarterly cash dividend every year and is currently at £0.49 per share.
Who owns the most Starbucks stock?
The Vanguard Group, Inc. is currently the top shareholder of Starbucks stocks with a 7.91% stake of the total shares.
When was Starbucks founded and by whom?
Starbucks corporation was founded in 1971 by Jerry Baldwin, Gordon Bowker, and Zev Siegl, near the Pike Place Market in Seattle, Washington, United States.
Is it a good idea to invest in Starbucks stock?
Does Starbucks stock pay dividends?
Is Starbucks a good dividend stock?
How many years has Starbucks paid a dividend?
Who owns the most Starbucks stock?
When was Starbucks founded and by whom?
Conclusion
The thought of investing in Starbucks shares can be exciting, considering the company's success and regular recognition. Its ability to constantly update its menu to suit popular tastes keeps it ahead of the competition. As a result, investors continually monitor its stock price performance, with the majority looking to own a piece of the company.
Luckily, Starbucks shares can also be purchased as fractions through a brokerage firm. This means that regardless of the amount of money you have, you can become a shareholder of Starbucks and earn dividends like any other shareholder.
Generally, Starbucks shares are a perfect investment since the company is expected to grow even further based on its achievements and our predictions. However, you need to conduct thorough research and analyse the Starbucks stock before putting up your money. Also, make sure you trade with the amount you can afford to lose.