Apple PLC is one of the largest tech companies in the world with an established global presence. As an investor, you've probably thought about putting up your money into the company's shares, hoping it will grow in value and make you good profits. If you are a beginner, you may also think that you need a lot of money (probably millions) to buy Apple Shares. However, this is not the case because, with only a few pounds, you can buy Apple shares as CFDs and hopefully profit from them.
This guide will show you how to buy Apple shares using online brokerage firms. We also list the top brokers for buying Apple shares in the UK and give you tips on selecting a stock broker that matches your trading needs.
Top 3 Brokers for Buying Apple Shares
You need a reliable online stock broker to buy Apple shares. Most importantly, the broker should have access to the NASDAQ exchange, which lists Apple shares using the ticker symbol AAPL. The best thing about buying Apple shares using brokers is that you can buy them as fractions, and they have lots of payment options at your disposal.
Note that the UK's financial market hosts hundreds of stock brokers, and finding the best one offering Apple shares is a challenge. For this reason, we have reviewed the best three stock brokers below to help you get started.
1. IG Markets
IG Markets has a direct market access (DMA) platform that allows you to directly invest in Apple shares commission-free. Other than the Apple shares, IG also offers over 12,000 international shares, all of which are traded as CFDs. Additionally, the broker is replete with numerous tools for technical and fundamental analysis. Beginners will also find it easier to upgrade their skills on the IG Academy platform and its demo account.
2. Revolut
Revolut offers commission-free stock trading, and using it to buy Apple shares means spending less money. You can also invest in fractional shares with as little as £1. Additionally, the broker provides access to 750+ stocks, including Zoom, Tesla, and more. Generally, it is among the cheapest stock brokers with no minimum deposit requirement, no transaction costs, no inactivity fees, and more. However, trading tools are limited, and there is no demo account.
3. Plus500
Plus500 does not offer actual stock trading, but instead, you only get to trade the shares as CFDs. This means that you are not entitled to Apple dividends since you won't take ownership of the underlying asset. With only a £100 minimum deposit, Plus500 provides access to Apple shares. The stock broker also has plenty of payment options, all of which you can transact with for free. There are also no commission charges when buying Apple shares. In addition, Plus500 allows you to trade forex, cryptocurrencies, indices, cryptos, and more.
Read more about the best trading platforms in the UK in our guide.
How to Buy Apple Shares With IG Markets?
The three stock brokers above will help you get started in buying Apple shares. However, not all of them will suit your trading requirements, and you should know how to choose the best if you want to stand a chance of succeeding in buying Apple shares. We will guide you through the attributes of the best broker shortly, but first, here are the steps to follow when purchasing Apple shares with IG Markets.
Step 1: Register an Account
Step 2: Verify your Identity
Step 3: Make an Initial Deposit
Step 4: Learn the Platform
Step 5: Buy the Stock
You need to create a live share trading account to access NASDAQ and buy Apple shares. IG Markets will require you to provide your personal details during this process, including your name, phone number, email, jurisdiction area, and date of birth.
The broker sets trading limits for traders based on their experience level. They will do so by asking you questions during registration. Examples of limited features include margin level, copy and social trading, and more.
After successfully registering for a trading account, you are not out of the woods yet. IG Markets will need proof of identity and proof of residence for you to start buying Apple shares. To fulfil this requirement, you upload a copy of your identification or passport and a utility bill or bank statement (no older than 3 months).
Remember, the utility bill or bank statement should include recent transactions, probably not older than three months. Once you've uploaded all the required documents, it will only take a couple of hours to get your account verified.
Every broker has its own minimum deposit requirement, and for IG Markets, you will have to deposit at least £300 to access the NASDAQ exchange. Ensure you understand this requirement and other charges included in trading Apple shares before creating a trading account with IG Markets.
Before you start to invest your hard-earned money in Apple shares, try to first understand the IG Markets trading platform. You can do so via its risk-free demo account, which is funded with £20,000 virtual funds. Confirm how fast trades are executed, the accounts offered, trading resources, and more. You can also use the demo account to practise share trading until you feel confident to dive into the live markets.
At this point, we believe that you are fully prepared and ready to buy the Apple shares. So, choose your timeframe, whether you are opening a short-term or long-term position. You will also decide whether to buy the Apple shares and own them or trade them as CFDs. Then, pick a strategy and find the Apple (AAPL) stock. Set up an order and click buy to complete your purchase.
Note that certain information is required to complete your order, including the amount you wish to invest, the set rate (market order or limit order), stop-loss, and take-profit orders.
Tips on How to Choose the Best Stock Broker to Buy Apple Shares
As mentioned earlier, your chances of succeeding at trading Apple shares will depend on the broker you use. You want to have an affordable stock broker that provides the best trading conditions to improve your experience. Stock brokers in the UK have varying features, and it is essential to ensure that they align with your trading needs.
That being said, here are the significant elements to look at when choosing a stock broker to buy Apple shares with.
When buying Apple shares, you should abide by the legal requirements in your country to avoid unnecessary encounters with the law. This means that you should choose a stock broker that is licensed and regulated by a world-recognised authority. For instance, in the UK, stock brokers should get approval from the Financial Conduct Authority (FCA). Also, some of the unlicensed brokers are scammers, and you do not want to risk falling victim to their antics.
The platform of a stock broker should be fast in executing orders, especially if you are taking short-term positions. It should also host all the tools to help with your research and skills development. What's more, you should be able to rely on its customer service and have a demo account for familiarity purposes.
Apple shares are listed on the NASDAQ exchange, and it is essential that you choose a stock broker with access to the exchange to buy Apple shares. Some brokers like IG Markets have additional features like the DMA, which makes your experience more fascinating.
Do you want to buy Apple shares without exhausting your nest egg? Well, you should confirm a stock broker's trading charges and fees. Simply put, have a budget and ensure the stock broker you choose fits right into it.
The best element about most stock brokers in the UK is that they allow traders to buy fractional shares. This makes it easier for low-budget traders and investors to also take their chances in buying Apple shares.
Stock brokers have various payment options, including credit/debit cards, bank transfers, and e-wallets. However, not all of them will be convenient for you, and since you want to enjoy your experience, make sure a stock broker allows payment using a funding method that works best for you.
Apple Shares Price Today
Apple share prices have been rising over the years since it went public in 1980. In 2022, Apple had a four-for-one stock split, bringing its share price down from £499.23 to £127.58. The share price is currently valued at around £147, and you can easily get an accurate value from the price chart below. You will also access historical information and other data that will help you make the right investment decisions. The best part about Apple shares is that you can also buy them as fractions.
About Apple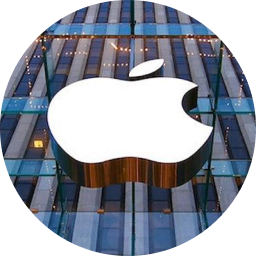 In 1976, Apple Inc was founded by Steve Jobs, Ronald Wayne, and Steve Wozniak. Its initial focus was to build personalised computers, which grew tremendously. As a result, Apple expanded its services and added other tech-related products, including iPhones, Apple MAC laptops and desktop devices, the iOS operating system, Apple Watch, iTunes, iPods, and more. To date, over 1.5 billion Apple products are actively functioning globally.
The company went public in 1980 on the NASDAQ exchange with a share price of only £22. This would have been a good investment had you bought the company's shares during its IPO. Apple's then CEO, Steve Jacobs, who took over in 1997, led the company to its glory until 2011 when he died of cancer, leaving Tim Cook as the new and current CEO.
Apple is one of the biggest companies not only in the US but globally and was the first to be valued at over one trillion dollars in 2018. This is alongside Facebook, Amazon, Microsoft, and Google. The company's stocks are traded on the NASDAQ exchange under the ticker, AAPL. You can also trade Apple shares as CFDs by speculating their price movement.
FAQs
Is Apple shares a good investment?
Yes. Apple has an excellent performance history, making it a good investment option. However, you should stay abreast with the company's performance to know when to open a position with profit potential.
Is it easy to buy Apple shares?
Yes. With the best stock broker, you can easily buy Apple shares. Simply search for Apple's symbol, AAPL, select the number of shares you are willing to purchase, and you are good to go. However, keep in mind that there are risks involved, and your success will depend on how well you mitigate those risks.
Can I buy one share of Apple stock?
Yes. You can actually buy a fraction of Apple shares instead of one complete share. Simply find a stock broker allowing you to purchase Apple's shares as fractions.
Can you make money off 1 share of stock?
Yes. A share of stock can make you a profit with thorough research and excellent strategy. For example, you can buy a share today, hold it for a certain period and sell it when the price goes up for a profit. You can also speculate on a share's price movement (CFD trading) and earn from rising or falling prices.
Does Apple pay dividends in 2022?
Yes. Apple pays dividends of 0.22 per share to all its shareholders on a quarterly basis in 2022.
Who owns the most Apple shares?
There are two major corporations that together own the most Apple shares, namely Vanguard Group and BlackRock, Inc. These two companies are major institutional investors that are majority shareholders in a range of big tech companies.
Regarding individual shareholders, Art Levinson, Tim Cook (Apple CEO), Bruce Sewell and Al Gore belong to those that hold the most shares in the company.
Is Apple shares a good investment?
Is it easy to buy Apple shares?
Can I buy one share of Apple stock?
Can you make money off 1 share of stock?
Does Apple pay dividends in 2022?
Who owns the most Apple shares?
Conclusion
If you were sceptical about buying Apple shares, we hope this guide has given you the insight you need. The best element about Apple shares is that you can also buy them as fractions and earn dividends as a shareholder. Although Apple's partnership with China has brought about debates concerning human rights violations, the company's shares still have the possibility of growing in value in the near future.
That being said, consider the risks involved before choosing a suitable stock broker. Practise share trading on the broker's demo account before making your first purchase. With discipline, consistency and thorough research, it will only be a matter of time before you succeed in trading Apple shares.