BAE Systems is the biggest arms and defence company in Europe with headquarters in London. The BAE Systems shares are listed on the London Stock Exchange (LSE) under the ticker BA and the company is also a part of the FTSE 100 – an index that tracks the 100 biggest companies in the UK.
Thanks to its size and influence in the global defence and security industry, BAE Systems shares have proven to be a fruitful investment for many stock traders over the years. And if you're planning on taking advantage of this, we suggest you check out our guide on how to buy BAE Systems shares where we also recommend the best brokers for trading this company stock.
Top 3 Brokers for Buying BAE Systems Shares
Before we get into detail about BAE Systems shares and how to trade and analyze the BAE Systems share price, we want to recommend the top three online brokers to use when trading stocks.
The following online brokerages are regulated and legally operating in the UK with licenses issued by the Financial Conduct Authority (FCA). This ensures that you and your funds are kept safe.
1. eToro
eToro is one of the world's largest online brokers with millions of customers from all around the globe. For years, eToro has been a pioneer in copy trading and social trading platforms, and today it's one of the best UK brokers to buy BAE Systems Shares with.
When using eToro, you can either analyze and trade on your own or copy more successful and experienced traders. This can help minimize the time needed to buy BAE Systems shares while increasing your chances of profit. Although it will cost you extra since eToro is known for high spread and copy trading fees.
eToro allows you to invest and trade BAE Systems shares directly from the exchange or as a CFD, and the same goes for the FTSE 100 which BAE Systems is a part of.
2. IG Markets
IG Markets is a legendary, UK-based online broker that is run by IG Group and was founded in 1974. To this day, IG Markets remains one of the most popular online brokers in all of Europe, many thanks to their massive selection of over 17,000 assets (mainly stocks).
In addition, IG Markets supports several advanced trading platforms such ProRealTime and MetaTrader 4, both of which are available as web-based platforms and mobile trading apps. Using IG, you can invest in the shares directly or trade them as CFD or spread betting.
Note that IG Markets is an advanced broker that is best suited for traders with some experience in securities trading.
3. Interactive Brokers
IBRK is a multinational online broker with several decades of experience based in the United States. The broker provides access to a broad selection of markets on award-winning platforms for both desktop and mobile trading. This means you can trade stocks like BAE, options, futures, currencies, mutual funds, and much more wherever you are.
Moreover, Interactive Brokers has a £0 minimum deposit for cash accounts allowing traders with limited budgets to trade. And even though IBRK is based in the United States, it is also licensed across the globe including by the Financial Conduct Authority (FCA) in the UK.
How to Buy BAE Systems Shares With eToro?
Once you've found a broker that you want to trade BAE Systems shares with, you have to register an account to get started. In the UK, the registration process is universal and regulated by the FCA. However, for the sake of making an example, we'll use eToro to better explain the steps you must complete before you can start trading.
Step 1: Find and Visit eToro's Website
Step 2: Register Your Account
Step 3: Verify Your Identity and Address for Legal Reasons
Step 4: Make an Initial Deposit to Activate Account
Step 5: Start Trading BAE Systems Shares
To open a trading account with eToro, you first need to visit the broker's website. The links provided above will direct you to the registration page to get started right away.
Registering an account with eToro or any other top BAE Systems brokers is similar to registering for other services such as Facebook. eToro will ask you for your full name, address, email, phone number, etc. This will be used as the foundation for your account and will be verified in the next step.
As you know, trading and investing are associated with risk, and to help protect you, eToro will have you complete a basic questionnaire about financial markets and leveraged trading.
In accordance with FCA regulation, all traders have to verify their identity and address, and there is no way to avoid this which is why you always have to provide correct information.
To verify yourself, you submit a proof of identity (copy of your ID card) and a proof of residence (recent utility bill or bank statement). The information will be reviewed by eToro and can take up to 48 hours.
After you have been verified you gain access to your new trading account and can also practice using eToro's demo account. But as soon as you want to trade with real money, you have to make a first deposit.
eToro's minimum deposit level is £200 for all transactions except bank wires which are £500. Ensuing deposits must be at least £50.
As soon as your first deposit reaches your trading account, you're ready to start trading BAE Systems Shares. Please remember to analyze the asset before opening any positions and since you've picked eToro as your broker, you might as well try the copy trading features.
Tips on How to Choose the Best Stock Broker to Buy BAE Systems Shares
For years, a team of trading experts has reviewed and tested stockbrokers in the UK, creating detailed comparisons and broker guides. Because of this, we recommend that our readers use said guides to find a suitable broker for them.
With that said, you should understand how you find a broker and what factors to look at. Because, in the end, you can't rely solely on others' opinions.
The main factors to review when looking for a BAE Systems shares broker are the following.
To ensure that you and your funds are kept safe when trading, you can only use FCA-regulated brokers. In fact, it's illegal to operate unlicensed brokers in the UK, meaning everyone should stay clear of them.
On this website, we only mention, review, and recommend brokers that are regulated by the FCA. And most of our top picks are also regulated by financial regulators all over the globe, from the EU to the U.S. and Australia.
Second, the broker and the assets you want to trade have to be readily available. Every top broker provides a range of trading platforms for different devices such as PC and smartphones as well as all the analytic tools needed to trade efficiently.
In addition to BAE Systems shares, our recommended brokers offer access to international stocks, currency pairs, commodities, futures, mutual funds, and much more.
It is never free to invest or trade any type of asset or with any type of broker. That's why the cost is such an important factor when comparing online brokers. Besides minimum deposit levels, all brokers charge either spread or commission, and you want to find one with as competitive rates as possible.
Also, look out for hidden fees and non-trading fees such as transaction fees and inactivity fees.
For more information on how to find the best BAE Systems broker, check out our complete guide to the best stockbrokers in the UK.
BAE Systems Shares Price Today
Having access to the latest stock prices is crucial to succeeding when trading BAE Systems or other shares. That's why we have embedded a top-tier share price graph on all our stock pages. This means that you can get most of the information you need to invest in BAE Systems shares from this guide.
About BAE Systems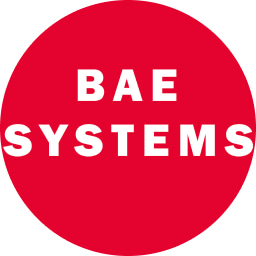 BAE Systems Plc is the biggest weapons and arms corporation in Europe with revenue of 19.285 billion pounds in 2020. The company mainly works with the development, production, and maintenance of military vehicles including fighting planes and the Swedish tank Stridsvagn 90, to mention a few. Also, BAE Systems Inc is one of the six largest suppliers to the US Department of Defense and they provide weapons to Australia, Indian, and many other major nations.
The company was founded in 1999 through a merger between British Aerospace (BAe) and Marconi Electronic Systems (MES). BAE Systems shares are listed on the London Stock Exchange (LSE) under the ticker BA and are a component of the FTSE 100, making it one of the 100 biggest companies in the UK.
At the time of writing, Charles Woodburn serves as the CEO of BAE Systems while Sir Roger Carr is the Chairman of the Board.
FAQs
Is BAE Systems a good stock to buy?
Yes, BAE Systems can be a good stock to buy and it has proven profitable for thousands of investors over the years. However, that doesn't mean that it's always a good idea to buy BAE Systems shares and you should always analyze the security before investing or trading.
Is BAE Systems a publicly-traded company?
Yes, BAE Systems shares are listed on the London Stock Exchange (LSE) and are a part of the FTSE 100 index.
How do I invest in BAE Systems?
The most practical way to invest in and trade BAE System shares is by using one of the three online brokers that we recommend in this guide. These brokers belong to the top-tier or stockbrokers, are available online, and are fully regulated by the FCA, making them safe and reliable.
With that said, there is no shortage of great stockbrokers in the UK, and if you want to compare more brokers we suggest you check out our complete coverage of the UK stockbroker selection.
Does BAE Systems pay dividends?
Yes, BAE Systems pay dividends to their shareholders providing additional value as an investment. Just keep in mind that you have to own actual stock in the company to get dividends, trading CFDs, or spread betting BAE does not make you eligible for payouts.
How often do BAE Systems pay dividends?
BAE Systems typically pay dividends twice a year. For more information, contact your stockbroker or visit the company's page for shareholders where information about dividends and more are shared regularly.
Is BAE Systems a good stock to buy?
Is BAE Systems a publicly-traded company?
How do I invest in BAE Systems?
Does BAE Systems pay dividends?
How often do BAE Systems pay dividends?
Verdict
Being the fact that BAE Systems is one of the largest companies in the UK, its shares have proven to be a fruitful investment to tens of thousands of investors and traders since 1999. However, the share size of the company also means that the share price is rather stable and that making a profit from trading requires leverage and margin as well as proper analytic work.
Therefore, ensure that you have a full understanding of the company and the factors that affect BAE Systems' share price before you invest. Otherwise, you run the risk of unnecessary and potentially devastating losses.