As a result, Microsoft shares are among some of the most popular shares to trade. And with close to a 500% increase in the past five years, the Microsoft shares have also proven to be a profitable investment for countless traders.
Now, if you're planning on benefitting from the Microsoft stock, you need to be prepared. In addition to analyzing the asset properly, you also have to understand how the stock works and what affects its price. This is why we created this guide to trading Microsoft shares.
Top 3 Brokers for Buying Microsoft Shares
1. eToro
eToro is without a doubt one of the best online stockbrokers on the market right now. With millions of customers, thousands of stocks, and an award-winning trading platform designed for copy trading, eToro provides great trading opportunities for everyone.
With the broker, you can trade Microsoft Shares as CFDs but you can also profit from Microsoft shares by trading other assets where Microsoft is included, for example, the Dow Jones Industrial Average (DIJA/Dow 30) as an ETF.
eToro is the perfect choice for traders that like to copy trade and want to share trading ideas, concepts, and strategies with other traders on the eToro social trading platform. Just keep in mind that eToro is known for being a bit expensive when trading stocks.
2. IG Markets
IG Markets is a UK-based online broker operated by the FTSE 250 company IG Markets. The broker has a reputation of being trustworthy and suitable to professional day traders trying to benefit from the Microsoft Share as well as 17,000+ other instruments.
When using IG Markets, you get the chance to choose between a number of different platforms. We suggest that you open a demo account to test them out, and remember that IG Markets offers Direct Market Access (DMA), CFD trading, and spread betting, so pick a platform that supports the method you're planning to use.
With more than 40 years of experience in the industry, IG Markets has been providing access to Microsoft shares ever since the company's Initial Public Offering in 1996.
3. Revolut
Revolut is an online bank and investment broker in one. It's also available online through the Revolut app that you download for free to your smartphone. In many ways, Revolut is best suited for mid-to-long-term investments and not for day trading. This means that there are many benefits to combining Revolut with one of the other recommended brokers.
Investing in Microsoft Shares with Revolut is very easy. All you have to do is register an account (with an associated bank card) and you get access to several leading stocks, cryptocurrencies, and other instruments.
Revolut's bank services also provide other great benefits such as no currency exchange, instant international transactions, and a global presence.
How to Buy Microsoft Shares With eToro?
Step 1: Visit the broker
Step 2: Initiate the registration
Step 3: Verify your identity
Step 4: Make an initial deposit
Step 5: Start trading Microsoft stock
If you've decided to use eToro as your Microsoft stockbroker, you made a great decision. To get started, you need to visit the broker by using one of the links provided on this page – they will direct you to the registration page.
After you've visited eToro, you need to register your account by providing basic account information such as your name, address, email, and phone number. This information will later be verified so ensure that you submit correct personal data.
Since trading is associated with risk, eToro will also ask you about your income and have you answer basic questions about leverage trading to set a suitable leverage limit for you.
Once done with the registration process, you will have to verify your identity to gain full access to your new trading account. To do this, you submit Proof of Identity – a copy of your passport, driver's license, or national ID – as well as Proof of Residence – a recent utility bill or bank statement.
These documents will be manually verified by eToro's customer service before your account is opened.
At this point, you will be able to access the eToro platform and browse around the different tools and assets. However, before you can start investing in Microsoft shares, you have to make an initial deposit.
eToro currently has a minimum deposit level of between £50 and £300 depending on the type of account you're opening and where in the world you reside.
And that is all you have to do. You have now equipped yourself with an eToro trading account and can start trading and investing in Microsoft stock or other instruments provided by the broker.
Tips on How to Choose the Best Stock Broker to Buy Microsoft Shares
The easiest way to pick the best stockbroker to trade Microsoft shares is to use our recommendations. We have, for example, created comparisons and reviews of the leading stockbrokers, CFD brokers, investment brokers, and even trading apps. Furthermore, we have recommended the top three Microsoft share brokers further up in this guide.
However, if you still want to find a broker on your own, there are a few things to keep in mind and the following factors are the most important to consider.
Trading and investing are associated with certain financial risks that you need to be aware of. Some of these risks – such as losing your invested funds – cannot be avoided while others – such as being ripped off by a broker – are easily avoided.
To make sure that you and your funds are safe while trading, you should only use licensed brokers that are regulated by the Financial Conduct Authority (FCA) for the UK market. Every broker that we recommend is licensed and can be considered safe to use.
Naturally, you have to ensure that your broker offers Microsoft shares and preferably also other related instruments such as the Dow 30. Moreover, you want the broker to be accessible on all the devices that you prefer, from desktop computers to smartphones.
Being the fact that Microsoft is one of the most influential companies in the world, most brokers provide its stock on their platforms. Making it rather easy to find a suitable Microsoft stockbroker.
All brokers charge some fees for their services. Many stockbrokers charge commission on every investment while online derivatives brokers usually use spread instead. And there is no way to avoid this which is why you need to find a broker that has reasonable fees that will not set you back too much.
In addition to trading fees, brokers also charge non-trading fees for transactions, certain services, and positions kept open overnight (when trading CFDs and forex).
Chances are that you will have questions or run into issues while using your broker. When this happens, it's crucial that you can get the help you need in a timely and professional manner. Thus, finding a broker with great customer service is of the utmost interest to all traders.
Lastly, you do not want to rely solely on your own or our opinions and reviews of brokers, but you should also consider what other traders in your position think of the broker. This can easily be done by reading reviews on rating platforms such as Trustpilot.
In addition, you can find millions of user reviews for every top-tier broker in the UK on this website. You see, we have created all our guides based on tests performed by our experts as well as reviews from the App Store, Google Play, and Trustpilot.
We've done this to remain transparent and accurate in our recommendations.
Microsoft Shares Price Today
Follow live updates of the Microsoft share price below. Our tool also features historical data and several other data points that can help you analyze the trading potential of the shares.
About Microsoft and the Microsoft Stock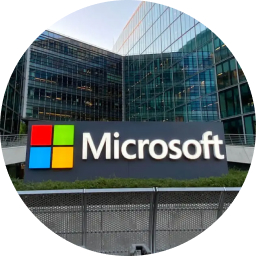 Microsoft is a software and technology company based in the United States. In fact, Microsoft is not just a software company but currently the world's biggest software company with a global presence and a massive influence in our day-to-day lives. To many's surprise, Microsoft was launched back in 1975, however, it would last until the 1990s and the introduction of Bill Gates before the company's growth took off.
In many ways, the computer and the smartphone would not exist in the way they do if it wasn't for Microsoft (and Apple, of course). For example, Microsoft has developed the Windows operating system, the Xbox game console, Microsoft Office as well as the American news outlet MSNBC. This means that Microsoft has changed how we live an experienced life.
Today, Microsoft produces and operates a range of software and hardware from computers and operating systems to cloud services, AI, and much more. A large part of the company is focused on research and development and is constantly breaking new ground in the field.
FAQs
Why is Microsoft stock so cheap?
At the time of writing, Microsoft shares were selling for 330+ USD and whether or not that is considered cheap is up to you to decide. However, Microsoft isn't as expensive as some other popular tech stocks, making it a great investment for those with a limited budget.
Can I buy Microsoft stock directly?
Microsoft is publicly traded on Nasdaq in New York and yes, you can trade Microsoft shares directly. Either with a traditional stockbroker or bank or by using an online broker with Direct Market Access such as IG Markets.
Just keep in mind that there are several benefits to trading stocks as a derivative such as CFD or spread betting.
How many shares of Microsoft Does Bill Gates Own?
In 1998 Bill Gates owned more than 8 billion stock in Microsoft but since then, he has sold most of his ownership in the company. Therefore, he currently only owns a very small number of shares in the company that he operated for decades.
Does Microsoft stock have a dividend?
Yes, Microsoft does pay dividends to all its shareholders. Please note that if you trade Microsoft stocks as CFDs or any other derivative, you will not be eligible for dividends. Instead, you have to purchase actual stock from the company or directly from the Nasdaq exchange.
How much does Microsoft pay per stock?
In 2021, Microsoft paid 0.62 USD cents per share in dividends, which are regular payouts that all shareholders get a part of. This number is set to change over the next quarterly payouts so if you're a shareholder, we suggest that you keep track of the dividends through the company itself.
How much did Microsoft stock cost in 1990?
In 1990, Microsoft shares sold for roughly 0.5 USD which is incredibly low compared to today's quote of over 330 USD. In other words, if you had invested a few thousand pounds in Microsoft back in 1990, you would be a billionaire today. Microsoft wasn't introduced on the Nasdaq exchange until 1996, meaning you would have to purchase stock privately with the company before that.
Why is Microsoft stock so cheap?
Can I buy Microsoft stock directly?
How many shares of Microsoft Does Bill Gates Own?
Does Microsoft stock have a dividend?
How much does Microsoft pay per stock?
How much did Microsoft stock cost in 1990?
Conclusion
Microsoft has been one of the biggest and most influential software companies in the world for several decades, and all the signs indicate that it will keep its role in the tech industry for many years. Thus, Microsoft has been and will continue to be a potentially fruitful investment opportunity.
Just keep in mind that you need to understand the company, its shares, and the factors that affect the price before you start trading.