Tesla is one of the most innovative companies globally that receives regular recognition, especially from its environmentally-conscious clients and fans. Besides manufacturing electric vehicles, the company also delivers solar panels and clean energy solutions.
Tesla's success has attracted the attention of many investors looking to buy Tesla shares. But, do you know how to buy Tesla shares? Fortunately, we have prepared this guide to help you understand Tesla shares and whether you should invest in them. We have also recommended the three best stock brokers from whom you can purchase the company's shares.
Top 3 Brokers for Buying Tesla Shares
Buying Tesla shares requires access to the NASDAQ exchange where the company is listed. For this reason, you need to find the best online brokerage firm with access to the exchange. Unfortunately, it's not easy to identify the best stock broker from the dozens dominating the financial markets. That is why we decided to recommend the top three below that have been tested and reviewed by our expert researchers.
1. eToro
eToro has access to the NASDAQ exchange and allows you to buy Tesla shares commission-free as CFDs. Also, you can purchase the shares as a fraction if you cannot afford to purchase one single share. The broker has a user-friendly copy and social trading platform that allows you to benefit from expert traders' positions.
Additionally, eToro allows you to buy shares of other world-recognised companies, including Microsoft, Apple, Amazon, Facebook, and more. You can also try your luck in other markets such as forex, cryptocurrencies, commodities, and more. All these activities are conducted with only a minimum deposit of £50.
On its downsides, eToro is expensive to trade with and charges a £500 minimum deposit for you to enjoy the copy trading feature.
2. IG Markets
IG Markets offers plenty of trading resources for all types of traders. For instance, there is an IG Community platform that you can use to connect with like-minded traders and share trading ideas.
In addition, IG Markets hosts advanced platforms with advanced features to maximise your potential. This includes a Direct Market Access (DMA) platform that allows you to trade directly into the order books of NASDAQ commission-free. There are also other platforms like the MT4 and ProRealTime to give you a fantastic experience.
On the flipside, IG Markets charges high spreads. It also charges a £50 quarterly subscription fee if you fail to trade more than three times using your share trading account.
3. Plus500
*Illustrative prices
Plus500 is an excellent choice of a broker if you want to trade Tesla shares as CFDs. The broker hosts over 2,000 tradable assets, most of which are traded as shares. In addition, buying Tesla shares is commission-free, and you only need to make a deposit of at least £100 to trade Tesla shares.
Besides the web platform, you can also buy Tesla shares using Plus500's mobile app, which is highly rated on Google Play, the App Store, and Trustpilot.
Like other brokers, Plus500 also has its pitfalls. For instance, its asset availability can be improved. It also has a single proprietary platform that limits expert traders looking for advanced features.
How to Buy Tesla Shares With eToro?
Various stock brokers, especially in the UK, will allow you to buy Tesla shares. However, the above three brokers will support you with quality resources to get you started. Below are the steps to buying Tesla shares with eToro.
Step 1: Go to eToro
Step 2: Sign up and verify yourself
Step 3: Deposit Your Account
Step 4: Find Tesla Stock
Step 5: Choose Your Investment
Follow the links provided on this page and be redirected to eToro's platform for registration. If you are a newbie, you can start by signing up for a demo account and practice share trading before you create the live trading account. Keep in mind that eToro also has a reliable mobile app. Therefore, while you can buy Tesla shares using your desktop, there is also a mobile app to help you track your activities on the go.
eToro has a pretty straightforward registration process that you can complete within minutes. You will be required to provide your personal information, including name, date of birth, email address, phone number, location, etc. the broker will also require more information regarding your source of income to use as the foundation of your account.
In addition, you will provide details to prove your identity in order to verify your trading account. For this reason, a passport or any other identification number will be required. You will also submit a bank statement or utility bill as proof of residence.
Once your trading account is verified, you are free to start trading. However, a minimum deposit of £50 will be required to access the NASDAQ exchange and buy Tesla shares. Note that the broker allows payments through various methods, including bank transfers, debit/credit cards, and e-wallets. So, make sure you confirm a suitable payment method before committing to eToro.
At this point, you are now free to access the NASDAQ exchange and choose Tesla shares under the ticker TSLA. Tesla is one of the biggest tech companies globally, and eToro allows you to trade the shares differently. This means that not only can you buy Tesla shares as physical assets, but you can also trade them as indices and CFDs.
Based on your budget, you will choose the amount of Tesla shares you are willing to buy. If you want to trade the shares as indices or CFDs, just make sure you understand all the risks involved before putting up your money.
Tips on How to Choose the Best Stock Broker to Buy Tesla Shares
Many stock brokers in the UK claim to offer Tesla shares. However, how do you know that the one you are using is the best one for you? Read along for the attributes of the best stock broker to buy Tesla shares.
The stock broker you trade with must guarantee the safety of your trading funds and personal information. This is because some stock brokers are not legally authorised to extend their services to traders, and using them puts your funds at risk of being stolen. For this reason, ensure you choose a stock broker in the UK licensed by the Financial Conduct Authority (FCA).
The trading platform of a stock broker should be fast in executing trades. What's more, it should host all the necessary tools to boost your experience. This includes trading accounts, learning content, and research materials. The platform should also perform seamlessly on both desktop and mobile devices to enable you to trade anywhere, anytime.
Obviously, you want to buy Tesla shares, and so the stock broker should allow access to the NASDAQ exchange where the shares are listed, alternatively offer CFDs or other derivatives based on Tesla shares. It should also host additional assets to trade and diversify your portfolio with.
The best stock broker should allow you to test it and see if you are comfortable with it. You don't want to choose a stock broker and find out later that it isn't suitable for you. Therefore, confirm if there is a demo account on a stock broker. You can also use the demo account to practise how to buy shares before you invest your money in Tesla.
Buying Tesla shares using a stock broker is not free. You need to pay commission or spreads, which vary with a broker. This means that you should find a stock broker with spreads or commissions that fits into your budget. You can also confirm additional fees such as minimum deposit requirement, transaction charges, inactivity fee, and more.
While you may want to overlook this element, it is imperative when choosing a stock broker in the UK. It doesn't matter whether you are a newbie or an expert trader since, at some point, you will require someone to attend to any arising trading issue. So, choose a stock broker with responsive and reliable customer service.
While we always say that the best stock broker is the one that meets your trading requirements, you should also consider other stock traders' opinions regarding the broker you are choosing. With their comments and ratings, you will be able to know where the broker excels and where it falls short, hence make the best decisions.
Tesla Shares Price Today
Tesla shares have been increasing in value throughout the years and are currently valued at around £1,000 a share. The chart below will allow you to check Tesla share price and compare how it changes at different times, whether within minutes, days, months or years. As a result, you will be able to make informed investment decisions that can bring about profits in the long run.
About Tesla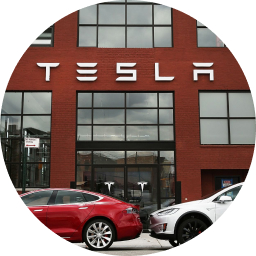 In 2003, Tesla was founded by two engineers, Martin Eberhard and Marc Tarpenning, who believed and wanted to prove that electric vehicles can be better, more reliable and fun than gasoline cars. To date, not only has Tesla managed to manufacture electric vehicles and batteries, but it has also extended its services to producing clean energy generation and storage products. They include solar panels and roofs that enable homeowners and businesses to manage renewable energy consumption.
The Tesla company was initially named Tesla Motors, after Nikola Tesla, who was one of the contributors to the design of the modern alternating current (AC) electricity supply system. However, the company later changed its name to Tesla Inc in 2017 under the leadership of Elon Musk, who became its CEO in 2004.
The first vehicle manufactured by Tesla was the Roadster and was sold to the public from 2008 to 2012. The company began rising to its glory in 2010 after its first IPO (with only £17 a share) that made it raise £226 million. After the Model S was founded, Tesla became unstoppable on its way to success. In 2012, the company also introduced the Supercharger network — free charging stations for Tesla vehicles. To date, there are over 25,000 Superchargers globally.
Overall, Tesla is a popular company, with its share price valued at over £1000 in 2022.
FAQs
How much does it cost to buy stock in Tesla?
Tesla stock is currently valued at over £1,000, which can be costly for most investors. However, since the company allows traders to purchase the shares in fractions, you can buy Tesla shares with as little as £10. By using CFDs to trade Tesla, you can decide on the investment amount yourself.
Can I buy just one share of Tesla?
Yes. You can buy one share of Tesla. However, you need the best stock broker that has access to the NASDAQ exchange for you to complete your purchase.
Can I buy Tesla stock directly?
No. Unfortunately, Tesla does not have a direct stock purchase program, and you can only buy it through the NASDAQ exchange.
Who owns the most Tesla stock?
Elon Musk remains the biggest shareholder of Tesla stock with less than 17% ownership of the company since he is currently selling around 10% of his shares. For corporate investors, the Vanguard Group Inc is the leading shareholder of Tesla stock, with a total of 5.83% of the outstanding shares.
Does Tesla pay dividends?
Unfortunately for Tesla shareholders, Tesla does not pay dividends. There have been talks about introducing dividends, but we don't expect that to happen any time soon. Therefore, if you buy Tesla shares, you will only make profit from selling your shares at a higher price than you bought them for.
When did Tesla become a company?
In 1st July 2003, Tesla was founded by two engineers, Martin Eberhard and Marc Tarpenning, who believed and wanted to prove that electric vehicles can be better than gasoline cars.
How much does it cost to buy stock in Tesla?
Can I buy just one share of Tesla?
Can I buy Tesla stock directly?
Who owns the most Tesla stock?
Does Tesla pay dividends?
When did Tesla become a company?
Conclusion
Tesla is the world's largest electric vehicle company that continues to show growth potential. It is always a few steps ahead when it comes to innovation, which is one of the reasons investors are eager for updates of the company's performance. With its recent financial report indicating that its revenue is increasing, you should consider investing in Tesla shares.
Note that Tesla stocks are volatile, and you must stay abreast with the company's share price performance to know the right time to make a purchase. Also, ensure you trade with the right stock broker, whether it's a long-term or short-term investment. Our recommended brokers above will give you the best experience, so feel free to choose a suitable one for you.