Lithium is a chemical and a non-traded commodity that you can invest in and trade indirectly with the top online brokers in the UK. If you want to learn how to invest in lithium, you need to understand which assets can be used for this purpose, as well as which lithium brokers are safe and reliable.
In the wake of the new electric car market, the need for lithium has increased exponentially across the globe since lithium can be found in all new electric car batteries. And since the development is predicted to continue for years to come, lithium has become one of the hottest commodities to trade and invest in right now.
To help you with this, we created this guide on lithium trading where we'll walk you through the best lithium stocks and ETFs as well as the best practices when trading or investing in commodity stocks.
Top 3 Brokers for Investing in Lithium
As mentioned, lithium is not a traded commodity meaning you can invest in or trade lithium directly. Instead, you can benefit from the fluctuation in lithium prices by investing and trading stocks in companies handling lithium or in lithium-based Exchange-Traded Funds (ETF) such as Global X Lithium & Battery Tech.
Below are the top three lithium brokers in the UK right now based on hundreds of hours of research and hundreds of thousands of user reviews from Trustpilot, Google Play, the App Store, and more.
1. eToro
eToro is one of the largest online brokers in the world with several million customers. The broker is most well-known for its groundbreaking and intuitive copy and social trading platform that allows you to copy other traders directly.
Today, eToro provides several ways to trade commodities such as a range of lithium stock and the popular Global Lithium ETF.
Just keep in mind that eToro is known for being expensive, and to use the copy trading feature the broker requires a minimum of £500 invested in each position. Combine that with a high minimum deposit level and spread, and it becomes clear that eToro is not for everyone.
2. Plus500
This is a broker that's aimed at traders that want to access a user-friendly but basic trading platform. Plus500 has developed their own software meaning the platform lacks features found in many other platforms. At the same time, the platform is easy to master and performs well, especially in terms of execution.
With more than 2,000 assets on offer, there is plenty to choose from for most traders, including lithium stock and ETFs. Moreover, Plus500 is a strict CFD broker which means that it's best suited for trading and not so much for long-term investments.
Plus500 is affordable to use and provides a demo account so that you can test its bespoke trading platform before you register an account. Also, Plus500 has one of the highest-rated trading apps in the industry.
3. IG Markets
Since the 1970s, IG Markets has provided top-tier investments and trading services on the UK market and abroad. IG Market's main focus is forex as well as stock and ETF trading, meaning it's a perfect option for those wanting to buy lithium shares. And with more than 17,000 assets offered as CFDs, you will not have a shortage of opportunities to make use of.
Combine that with a range of award-winning trading platforms and analytic tools for all available devices, and you have a solid broker for all your needs. In addition, you can use IG to trade other commodities and metals such as gold, silver and platinum.
How to Buy Lithium Stock and ETF with eToro
Getting started investing in lithium is easier than you think. All you need to open an eToro account is to complete these five simple steps.
Step 1: Visit Broker and Initiate Process
Step 2: Register Account and Complete Simple Test
Step 3: Verify Identity and Address
Step 4: Make a Deposit that Meets the Requirements
Step 5: Start Investing in Lithium
Click on any of the links on this page to be directed to eToro's registration page. In case that doesn't work, just visit the broker's website and click the "Join Now" button.
Note that eToro allows you to register an account from either your computer or your smartphone so pick the device you feel the most comfortable with. Also, you will not be restricted to the same device and can switch between smartphone and desktop trading by logging into your account on any device.
The next step is more involved but also very straightforward. You have to provide eToro with all the information they need to create your account, ie. your full name, address, email, phone number, etc.
Since eToro is a margin broker that offers leverage trading and, therefore, increased risk, you will be asked to complete a quick questionnaire about financial markets, margin trading, and risk.
According to UK financial laws, every broker has to verify their customers to ensure that they are real individuals and that they reside in the UK and thus, trade under the Financial Conduct Authority (FCA).
You verify your identity by providing proof of identity, ie. a copy of your ID (passport, driver's license, or national ID). And to verify your address, you need to submit a recent utility bill or a bank statement. Please be aware that eToro can ask you to submit more documents if needed.
Before your account is completely activated, you need to meet eToro's minimum deposit which is currently £200 for all transactions except wire transfers where the limit is £500. Please read all the terms carefully before depositing to ensure that you understand what is required of you to start trading.
Once your account is verified and the first deposit has landed in your account, you're ready to get started. Using the tips we've presented in this guide, you can now start trading lithium stock and lithium ETF.
And please remember to analyze the instrument properly before opening any positions. Failure to do so will most likely result in financial losses.
Tips on How to Choose the Best Stock Broker to Invest in Lithium
The easiest and fastest way to find a lithium broker is to rely on our recommendations. We strive to keep all information about brokers completely unbiased and also include user reviews to help push transparency. All the top brokers provide demo accounts which we highly recommend that you use to test brokers out before you start trading with real money.
In case you want to find a lithium stockbroker on your own, you should consider these the most important factors to review.
Your number one priority should always be safety, both for you and your funds. To ensure that a broker is safe and legal operating in the UK, they have been issued a license from the Financial Conduct Authority (FCA).
By checking broker reviews and feedback from customers (on Trustpilot, for example) you can confirm that the broker has a good reputation in the industry and among previous users.
You also have to make sure that the broker you picked provides lithium in the format that you want to. Do you want to trade lithium stocks as CFDs or invest in a lithium ETF over a longer period of time? All this will have an effect on which broker suits you best.
Moreover, you want to gain access to a sophisticated platform that you feel comfortable using and that is fast and efficient. Also, does the broker offer the platform in the format that you prefer, ie. mobile, desktop or web-based?
Lastly, your broker should not be too expensive and any fees they charge should be at least fair. It will never be free to invest in or trade lithium, but brokers use different systems for their fees and your job is to find the one with the lowest overall cost.
Note: there are many other factors to consider when picking a broker and these were just the most important examples. Please check out our reviews for a better idea of how in-depth a proper broker review should be.
Investing in lithium: the Best Lithium Stocks for 2022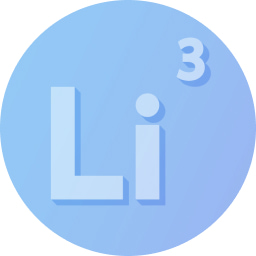 As we've pointed out, you can invest in lithium and trade lithium either through company stocks or an ETF. If your goal is to buy lithium stocks, you should know that these are the top three lithium stocks to keep an eye on in 2022.
Albemarle (NYSE: ALB) – an American producer of lithium for batteries, including many of the new electric car batteries that were just introduced to the market.
Sociedad Química y Minera de Chile (NYSE: SQM) – a Chilean company that's ranked as one of the largest producers of lithium in the world, much thanks to Chile's huge deposits of lithium.
Orocobre (ASX: ORE, TSX: ORL)​ – a mining company based in Australia with mining operations mainly in Argentina. The company has several major collaborations including with Toyota, and they are currently planning on expanding their production of lithium hydroxide in Japan.
FAQs
Is lithium a good investment?
Similar to all financial instruments, lithium can be a good investment if you analyze it properly and plan your investments accordingly. With that being said, there is never a guarantee that an investment will be fruitful so invest carefully.
Now, thanks to the increased need for lithium in all the new electric cars, experts predict lithium to experience a massive increase in value which, in turn, could make lithium a very profitable investment over the coming years.
Can you invest in lithium as a commodity?
No, lithium is not a traded commodity. This means that you trade and invest in lithium indirectly. There are for example several companies that handle and produce lithium which you can invest in, these are usually called lithium stock. In addition, there are exchange-traded funds that are based on the lithium commodity.
Which is the biggest lithium company?
Albemarle is a US-based lithium company and with a market cap of 25.69 billion dollars, it's by far the biggest provider of lithium for batteries in the world. To trade and invest in Albemarle, you need a stockbroker that provides stocks listed on the New York Stock Exchange (NYSE) where Albemarle is listed under the ticker ALB.
Is there a lithium ETF?
The Global X Lithium & Battery Tech ETF (LIT) is a lithium ETF in its truest form. The instrument tracks 37 companies that mine lithium and produce lithium batteries. That way, by investing in lithium ETF, you can benefit from the constant fluctuation of the lithium price across the global market.
What is lithium exactly?
Lithium is a chemical element and a metal. In fact, lithium is both the lightest metal and the lightest solid element at the same time, resulting in many different uses. Most people know lithium as one of the components in batteries, and some might have heard of lithium being used as a medicine (especially for bipolar disorder). However, lithium fills a lot of other uses as well ranging from a component in lubricants, pyrotechnics, and nuclear chemistry.
What are the main uses of lithium?
As mentioned above, lithium is used as a component in a massive range of things, from batteries and medicine to weaponry and chemistry. The many uses are one of the main reasons why lithium has become such a popular investment.
Is lithium a good investment?
Can you invest in lithium as a commodity?
Which is the biggest lithium company?
Is there a lithium ETF?
What is lithium exactly?
What are the main uses of lithium?
Conclusion
Lithium is a chemical element and a metal that can be traded in several ways. Unlike other commodities and metals such as iron or gold, you cannot trade lithium directly. Instead, you have to invest or trade lithium using other assets. Most commonly, traders benefit from lithium by buying lithium stocks (stock investments in companies producing lithium) or as an ETF – Global X Lithium & Battery Tech (LIT).
If you're planning on investing in lithium, you need to find a reliable broker which we have recommended above. In addition, you need to understand what lithium is, what it's used for, and, more importantly, what affects the price of lithium. Without this knowledge, you will not be able to efficiently profit from your lithium investment.