With a 175% increase in value over the past 5 years, it comes as no surprise that Meta – previously Facebook – shares are popular among investors and traders alike. Over and over again, Facebook stock has proven to be a volatile, exciting, and oftentimes profitable investment.
With regards to Facebook's recent name change to Meta and the plans to launch the "metaverse", the Meta/Facebook stock will likely see major changes in its value over the next few years. And it's predicted that Meta will provide plenty of investment opportunities.
On the following page, we'll walk you through the ins and outs of investing in and trading with Meta shares. We will also provide three broker recommendations to help you get started.
Top 3 Brokers for Buying Facebook Shares
In order to get access to Facebook shares, you need a broker that connects you with the right stock exchange or financial instrument. Based on hundreds of hours of research and testing as well as many years in the trading industry, we've concluded that the following three brokers are the best for trading Facebook stock.
1. eToro
eToro is an excellent online broker for trading Meta shares. For years, eToro has been laying the groundwork for copy trading and is one of the driving factors behind interactive and social trading solutions.
Naturally, the broker is safe and regulated and provides access to Meta stock through the platform.
On the downside, eToro is quite expensive to use with a high minimum deposit level and £500 minimum to use the copy trading feature.
2. Plus500
*Illustrative prices
If you're looking to trade Meta as CFDs on a sophisticated yet easy-to-use platform, you should opt for Plus500. With 2,000+ assets – most being company stock – there is something on offer for everyone.
Plus500 has consistently been ranked as one of the best mobile trading platforms in the world with top-tier ratings in the App Store and Google Play as well as on Trustpilot.
The only thing that could improve Plus500's offerings is if they added some more assets on different markets.
3. IG Markets
IG Markets is a legendary online broker based in the UK and operated by IG Group – an FTSE 250 company. The broker has more than 17,000 instruments with a vast majority being company stocks, including Meta stock.
As a trader, you have the option to pick a platform that you prefer, for example, L2 or MetaTrader 4. Moreover, you gain access to the best analytic software in the industry and extensive educational material to help you optimize your efforts.
Similar to eToro, IG Markets is considered to be a bit on the expensive side, something the broker more than makes up for through its amazing service.
Get the full list of the best trading platforms in the UK on TradingGuide.
How to Buy Facebook Shares With eToro?
Step 1: Visit eToro
Step 2: Provide Personal Information
Step 3: Complete a Basic Knowledge Test
Step 4: Verify your Identity
Step 5: Make a Deposit
Step 6: Start Trading Meta Shares
To start the process, follow one of the links provided on this page or click here. They will redirect you directly to eToro where you can start the registration. Note that you can register an account using both your desktop and mobile device.
You will also have to provide personal information that will be used as the foundation for your account. This includes basic information such as your full name, address, email address, phone number, etc. eToro will also ask you to submit information about your income and employment.
eToro offers leverage and margin to their customers. This increases the potential risks with trading and therefore, eToro will ask you to complete a basic knowledge test regarding leverage. The results from the test will be used to determine your leverage limits, thus the test is in place to protect you.
Since eToro is regulated and licensed by the FCA, the broker follows a strict protocol in terms of customer registration. Because of this, you will have to verify your identity before you start trading.
To do this you submit proof of identity (copy of your ID) and proof of residency (utility bill or bank statement). These documents are reviewed by eToro before your account is fully activated.
Once verified, you can make your first deposit and start trading. eToro currently has a £200 minimum deposit level that you have to fulfill to start trading Meta/Facebook shares with the broker.
You are now ready to start trading Meta shares with eToro. Keep in mind that Meta is one of the biggest tech companies in the world. This means that you can trade Meta shares in several different formats. eToro provides CFDs on Meta shares but also on indices that contain Meta shares
Tips on How to Choose the Best Stock Broker to Buy Meta Shares
When picking a broker to trade Meta shares with, you have to be careful and meticulous. Otherwise, you run the risk of registering with an illegal and potentially harmful broker that can end up stealing your funds and personal information.
To avoid this happening and ensure that you find a suitable broker, you should consider the following:
Safety – without exception, you should only ever use a broker that is regulated in the jurisdiction in which you reside, in this case, the Financial Conduct Authority (FCA). If you fail to do so, you will be trading illegally and without the ability to get help and support from the government when needed.
Availability – you want to be able to trade whenever and wherever you are. Therefore, any decent broker provides trader accounts that can be used both on a computer and through a trading app.
Platform – by first signing up with a demo account, you get a chance to test the platform and see if you like it. Since you will be using your platform for every single trade, it's essential that you feel comfortable with it.
Cost & Fees – trading and investments are never free. Therefore, it's your job to find a broker with honest and competitive charges when trading Meta shares. Most online brokers today are commission-free and instead charge spread.
Customer Service – you also want to find a broker with a great customer support team that is always ready to assist you. Whether you have basic questions or experience issues with transactions and functions, there should be a customer support representative that you can reach out to.
Personal Preference – in the end, your choice of broker is a personal choice. As long as a broker lives up to the requirements above, it's up to you to pick the broker that you feel will be the best fit for you.
Facebook Shares Price Today
In this chart, you can follow the Meta share price movements from day to day and even minute to minute. The chart also provides historical data and other useful information that you need to make your investment decisions.
If you ever need to know what Meta shares are traded for, this should be your go-to resource.
About Meta Platforms Inc. (formerly Facebook)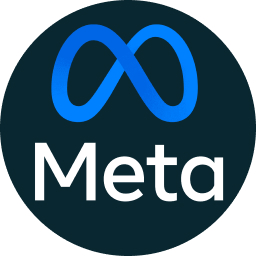 Facebook was first launched in 2004 and is today one of the biggest social media platforms in the world. After being publicly listed in 2012, Facebook has acquired several other leading social media platforms including Instagram and Whatsapp.
Unsurprisingly, this has made Facebook one of the hottest tech companies in the world.
In November 2021, Facebook presented a major change in the company with the launch of a new parent organization called Meta Platforms Incorporated (called Meta). The company will continue to operate all the associated platforms but has also initiated the development of a new type of technology: the Metaverse – a digital universe based on VR, AR, and AI.
This major change has, most likely, ensured Facebook's (and Meta's) dominant role in the tech industry, thus providing great investment opportunities in coming years.
FAQ
How many shares does Meta/Facebook have?
There are currently between 2.5 and 3 billion Meta stocks available. This number fluctuates when stocks are sold, bought, and issued.
Is FB (Meta) stock a good buy now?
Considering the massive changes that Facebook has gone through during the rebranding to Meta, we believe that it's a great time to buy Meta shares. Just remember to analyze the market properly first and always invest based on your analytic work.
Is Facebook a long-term stock?
Meta shares can definitely be a long-term investment and that is how most people invest in Facebook. However, all the top-tier online brokers also allow you to trade Meta shares as CFDs and other speculative instruments.
Who owns the most Meta stock?
The Vanguard Group, Inc. is currently the top owner of Meta stocks with a total of 7,28% of the total shares outstanding. Looking at private investors, Michael Schroepfer owns the most Meta shares with a total of 600,000 shares (or 0,02% of the company).
Will Facebook continue to grow?
Yes, it is almost guaranteed that Facebook will continue to grow, especially after the Meta rebrand. However, in the future, Facebook will not be Meta's number one priority since more efforts will be allocated to the new Metaverse.
Does Meta stock pay dividends?
No, Meta does not pay dividends to its stakeholders. This is a debated topic that divides investors with one side asking for dividends while the others are happy with just the return they make on their regular investment.
How many shares does Meta/Facebook have?
Is FB (Meta) stock a good buy now?
Is Facebook a long-term stock?
Who owns the most Meta stock?
Will Facebook continue to grow?
Does Meta stock pay dividends?
Conclusion
Over the past decade, Facebook has managed to completely change the world we live in by making social media an everyday subject for everyone around the world. Based on our predictions, this will not end anytime soon and we expect Facebook and Meta Platforms to continuously grow.
Therefore, Facebook/Meta shares make a perfect investment for most people. Just make sure that you analyze the stock before you invest so that you base all your investments on your analytic work and not solely on the opinion of others.