Vodafone is one of the leading mobile carriers globally, and everyday, millions of users are benefiting from the company's services. Being among the main players in the 5G domain, Vodafone has realised billions of pounds of revenues in recent years. It is a British telecommunications company with its shares listed in the London Stock Exchange (LSE).
If you have been learning more about Vodafone and wonder whether this is the best time to buy Vodafone shares, this guide will help you clear all doubts. Since you need online brokers to invest in the shares of Vodafone, we also recommend the top three below. What's more, we have provided a live chart with Vodafone's current share price to help you in market analysis and strategy development.
Top 3 Brokers for Buying Vodafone Shares
Buying shares in Vodafone requires the support of a reliable broker with access to the London Stock Exchange where the company's shares are listed under the ticker VOD. The broker should also allow you to trade Vodafone shares off the listed exchange or as derivatives. For instance, you should be able to trade VOD shares as CFDs or indices. Additionally, consider a stock broker with other offerings to diversify your portfolio with.
There are numerous stock brokers in the UK, and choosing the best continues to be a challenge for most investors. For this reason, our expert researchers and analysts did all the legwork so that you can avoid drowning in a sea of options. As a result, they recommend the following top three brokers for buying Vodafone stocks.
1. eToro
Using eToro to buy Vodafone stock increases your chances of a successful investment. For starters, the broker is user-friendly and you only need a minimum deposit of £50 to access VOD shares. Newbies looking to improve their skills can also utilise eToro's educational resources, which are available in plenty. On top of that the broker does not charge commissions for Vodafone stock trading and it is also the best for social and copy trading.
Sadly, expect to incur high spreads for buying shares in Vodafone. Even though the copy trading maximises your profit potential, accessing it requires a minimum deposit of £300. On top of that, withdrawals attract a fee depending on the payment method you use. All in all, eToro is worth giving a try since you also get to try out new assets like forex, commodities, cryptocurrencies, etc.
2. IG Markets
IG Markets is a pioneer broker that offers Vodafone stock investment on user-friendly and modern design platforms. These platforms are loaded with plenty and quality tools, including quality research materials, to ensure you have a worthwhile experience. They include the L-2 Dealer, MT4, and ProRealTime.
Like eToro, IG Markets is a social trading broker connecting like-minded investors on a single platform. This helps you learn more about investing in VOD stock and make the best decisions that can potentially earn you profits. Besides buying Vodafone stock, you can also trade the asset as CFDs.
Regarding IG Markets drawbacks, you will pay high fees for trading and investing in Vodafone shares. Getting started in VOD share trading and investment also requires a minimum deposit of £300, which most traders consider high. Furthermore, you need to be an active trader to enjoy the benefits of using this broker or else you will pay a quarterly subscription fee of £50.
3. Pepperstone
If you are keen on budget and are sceptical about putting all your funds in Vodafone shares, Pepperstone is the right broker for you. It charges low commissions and spreads on trading and investing in the shares of Vodafone.
Additionally, transactions are free, and you get to experience investing using one of the best platforms, including cTrader, MT4, and MT5. These platforms are known to be fast in executing orders and support traders with adequate research and skills development resources. Pepperstone also has a social trading platform to maximise your experience.
It is unfortunate that Pepperstone does not allow purchasing of VOD stock as a physical asset. Instead, you only get to trade the asset as CFDs. On top of that, a minimum deposit of £200 is required to trade or invest with Pepperstone. While most investors may see this requirement as high, Pepperstone exposes you to many options, including trying other financial assets.
How to Buy Vodafone Shares With eToro
The Financial Conduct Authority (FCA) regulates all stock brokers for investing in Vodafone stocks in the UK. This means that all brokers regulated by this authority have similar procedures for investing in VOD stocks. eToro is among such brokers, and below, we use it as an example to take you through the step by step procedure of buying Vodafone shares.
Step 1: Sign up for a Trading Account
Step 2: Complete Simple Knowledge Test
Step 3: Verify your Identity and Jurisdiction Area
Step 4: Fund your Account
Step 5: Find the Vodafone Shares to Purchase
To sign up for a trading or investment account with eToro, you must visit its website. On this page, we share links to redirect you to eToro's website. Keep in mind that the broker also has a trading app, and since it is impossible to stick to your trading station throughout the day. In this case, we advise you to download eToro's app from Google Play or the App Store and track your Vodafone investments on the move.
Then, sign up for a trading account by providing your personal information, including full names, email, phone, employment details, date of birth, etc. eToro will also require that you create a username and password to secure your account.
Before having your investment account fully activated, eToro will offer you a simple knowledge test to complete. The results from the tests will enable the broker to determine the most suitable trading package for your skill level.
eToro allows margin trading, especially when trading VOD shares as CFDs. In this regard, a margin trading test will be provided to select a suitable leverage limit for you.
Online trading is risky, and you never know who to trust, whether a broker or investor. In this case, the Financial Conduct Authority has laid down stringent procedures to keep online trading in the UK safe and secure. One of the standard procedures required by FCA regulated brokers is verifying the identities of their clients before fully activating their trading accounts.
For the above reason, you will share copies of your ID card, driving licence, or passport to verify your identity. What's more, a copy of a recent utility bill or bank statement will be needed to confirm your location.
It will probably take eToro upto two days to have your account activated. Once you receive an email notification on account activation, you will be free to make a deposit and invest in the shares of Vodafone. For eToro, you need to make a minimum deposit of £50. Since the broker allows payment via different methods, ensure you use the fast and convenient one for you.
Buying Vodafone shares using eToro is commission-free but attracts high spreads. Therefore, select the number of VOD shares you want to buy. If you decide to trade the stock off the exchange, ensure you understand how you want to trade Vodafone stock. Besides buying shares, eToro allows stocks trading as CFDs, indices, and ETFs, so choose wisely.
Lastly, start your investments with small amounts of money as you become familiar with the share market. Since eToro allows you to invest in the shares of Vodafone using different methods, ensure you understand the risks before taking the plunge.
Tips on How to Choose the Best Stock Broker to Buy Vodafone Shares
As mentioned earlier, the UK is dominated by numerous stock brokers, and identifying the best to buy shares in Vodafone has become bewildering for most investors. In this regard, we decided to conduct research on UK brokers and recommend the best three above to choose from. However, should you choose to overlook our recommendations and find a broker on your own, below are the main factors to consider.
You can not blindly trust a broker and put up your hard-earned money with them without proving their credibility. Remember, not every broker is trustworthy, and you need to keep a hawk's eye to avoid falling victim to scammers. So, choose a stock broker that the FCA regulates to guarantee the safety of your investment funds.
Trading with brokers regulated by the FCA allows you to experience the best trading conditions. It is also the only legal way to buy the shares of Vodafone in the UK.
Of course, the broker you select should have access to the London Stock Exchange, where you will purchase the stocks of Vodafone. In addition, it should have other options for trading Vodafone shares, whether as CFDs, indices, or ETFs. It is also advisable to try investing in different markets, and to do so, you should find a broker with diversified asset offerings, including forex, commodities, cryptocurrencies, etc.
A broker's platform should have an intuitive user interface to give you the best experience. It should also suit your skill level and offer tools that make you trade or invest with ease. For instance, expert traders looking for advanced features to maximise their experience in VOD stock trading should consider advanced platforms. In contrast, newbies should start trading using the standard platforms to develop their skills.
Furthermore, the best platform should have a demo account to experiment on how share trading works without risking your money. A demo account is the best platform to try new markets and identify the ones with the potential for profits.
Trading and investing in Vodafone shares is an exciting and fun activity. However, if you do not limit the amount of money you invest, you may end up exhausting your nest egg. Therefore, ensure you have a budget and use it in choosing a suitable stock broker. Some of the charges to look into for consideration include commissions and spreads, inactivity fees, deposit and withdrawal costs, etc. Most importantly, we advise you to ensure there are no hidden costs.
Going for a broker with reliable and responsive customer service is one of the best trading and investment decisions you will ever make. You see, experiencing challenges while trading is inevitable, and you need to prepare yourself to handle such problems.
Using a broker's demo account, test its customer service performance and see how responsive it is. It is also crucial that they offer relevant solutions to investment challenges, and their availability aligns with your trading schedule.
Vodafone Shares Price Today
The last time Vodafone share price hit its highest was in 2000. Since then, the company's share price has been fluctuating, making it challenging to know the current price or predict how it will be in the future. However, the ability for Vodafone to remain popular over the decades makes it a good buy. For this reason, you need to stay abreast with Vodafone's share price to create the best investment strategy.
That being said, we have created a live chart below showing today's Vodafone's share price and more historical information that can be useful in your investment strategy.
About Vodafone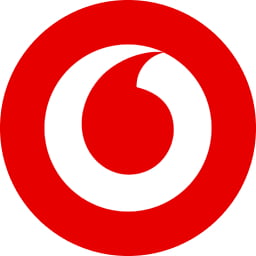 Vodafone is a British multinational telecommunications company founded in 1982 by Gerry Whent and Ernest Harrison. Its headquarters office is in the UK, with other branches spread across various regions globally, including Europe, Asia, Africa, and Oceania. The company offers telecommunications and IT services to corporate clients in more than 150 countries globally.
Currently, Vodafone operates under the leadership of Nick Read, who took over as the CEO in 2018. Since it hit its highest share price of around £132 in 2000, Vodafone is dedicated to increasing its share value even more. For this reason, it has made different acquisitions and partnered with various telecommunications firms to realise its objectives.
Note that Vodafone stock is listed on the London Stock Exchange, and you can identify it by searching for the symbol VOD. The company is also a constituent of the FTSE index and has a secondary listing on the NASDAQ exchange. With the world moving towards technological advancement, Vodafone has a promising future and can be a lucrative investment in the long run.
FAQs
Can you buy shares in Vodafone?
Yes. Vodafone shares are open to the public for purchase. You need an online stock broker that allows you to access the London Stock Exchange, where they are listed. Examples of such brokers are the ones we recommend in our mini-reviews above.
Is Vodafone stock a good buy?
Absolutely. The Vodafone company has existed for decades, and it is one of the largest multinational telecommunications companies globally. The company's revenue and the share price have been fluctuating throughout the years, and its recent moves to keep maintaining its global presence shows that it has potential for growth in the future.
What was Vodafone's highest share price?
The all-time share price of Vodafone was at £132 in 2000. The company strives to have its share price rise even more, and with current plans and strategies for growth, 2022 looks promising for the company.
What is the stock symbol for Vodafone?
Vodafone stocks are listed on the London Stocks Exchange using the ticker symbol VOD. You can purchase the company's stock through online brokers with access to this exchange. With online brokers, you can also buy Vodafone shares as derivatives.
Who is the real owner of Vodafone?
Vodafone is a British telecommunications company based in the UK. It was founded in 1982 by Gerry Whent and Ernest Harrison. Currently, Vodafone operates under the leadership of Nick Read, who took over as the CEO in 2018.
Which country is Vodafone from?
Vodafone was founded in the United Kingdom in 1982. It also has other subsidiaries across the globe, including Germany, Ghana, Australia, Ireland, Egypt, etc.
Can you buy shares in Vodafone?
Is Vodafone stock a good buy?
What was Vodafone's highest share price?
What is the stock symbol for Vodafone?
Who is the real owner of Vodafone?
Which country is Vodafone from?
Conclusion
Buying or trading VOD shares is easy if you master all the procedures involved. However, to maximise your chances of making profits, you need the best broker that meets your investment needs. In addition, learn how to use market analysis tools to develop the best investment strategy. With the company's global presence and ability to pay dividends to its shareholders, investing in VOD stocks is definitely worth a try.