Bitcoin is one of the most popular cryptocurrencies many investors wish to put their money into. However, the asset is highly volatile, and traders must find ways to strategise and identify the best entry and exit points. In addition, you must select the best cryptocurrency broker that supports Bitcoin investment for maximum profitability. Most importantly, you need to identify the best mode of payment to effectively complete your purchase.
While many cryptocurrency brokers allow investors to buy Bitcoin using various payment methods. In this case, it is crucial that you select the most suitable one for you. PayPal is one of the most preferred modes of transaction, and below, we will take you through how to buy Bitcoin with PayPal. We will also recommend the top Bitcoin brokers that accept PayPal to help you get started on a good note.
Top 3 Bitcoin Brokers That Accept PayPal
There are many Bitcoin brokers in the market, and choosing the best that accept PayPal can be challenging for investors. Besides allowing PayPal transactions, you must ensure that a broker is regulated by tier-one authorities such as the Financial Conduct Authority (FCA). Additionally, it should support Bitcoin and additional assets for portfolio diversification. It is also crucial that you settle with a Bitcoin broker that also allows you to trade Bitcoin as CFDs in case you might want to hedge your investment in the future.
Below, we list for you the top three Bitcoin brokers that accept PayPal. Keep in mind that we thoroughly researched that market, and our recommendations have been tested multiple times and approved by our expert researchers. All you have to do is compare their features and choose the one meeting your trading needs.
1. eToro
eToro has been around since 2007 and continues to excel as one of the best cryptocurrency brokers. Through the broker, you can purchase Bitcoin using PayPal free of charge and also trade the asset as CFD. On top of that, attaching your PayPal account on eToro's platform is a pretty straightforward process that takes minutes. Besides buying Bitcoin, you can use PayPal for making deposits and withdrawals. Plus, investors get exposed to additional 30+ cryptocurrencies they can use to diversify their portfolios. There is also a risk-free demo account newbies can use to experiment with Bitcoin investment using PayPal before diving into the real market.
2. Plus500
Plus500 is another Bitcoin broker that is best for Paypal transactions. It is a considerable choice to get started with, especially if you want to invest in Bitcoin but do not want to take ownership of the underlying asset. The best element about Plus500 is that it is cost-effective, and there are no transaction charges when using Paypal as a payment option. Moreover, you get exposed to other top cryptos like Ethereum, Litecoin, Ripple, etc., for portfolio diversification. On top of that, Plus500 doesn't charge commissions for trading Bitcoin. Instead, you will pay spreads, which are among the lowest in the industry.
3. Pepperstone
We highly recommend Pepperstone for newbies and advanced traders because of its customisable features and various platforms for different skill sets. Like Pepperstone, you only get to trade Bitcoin as CFDs. Transactions using PayPal have been proven to be fast, thus allowing traders to take advantage of short-term opportunities. Additionally, using PayPal to make deposits and withdrawals is free of charge. Other than Bitcoin, Pepperstone hosts additional CFD assets to choose from. It also allows social and copy trading, thus giving you an advantage of understanding Bitcoin trading tricks and tips from other traders.
How we test?
Our test process is really based on two different aspects: our independent tests and research, as well as user reviews from Google Play, the App Store, and Trustpilot, etc.
The first thing we do when testing is to check every detail and test every tool and instrument. Our experts spend more than 200 hours on every article. We pay special attention to the specific function or the criteria that we're comparing during the comparing stage. This means that we must determine which broker is more suited for beginners, and which is better suited for experts, for example. Find out more about our test process here.
How to Buy Bitcoin With PayPal
Now that you know the top brokers for buying Bitcoin with PayPal, you must be wondering about the procedure for completing the purchase. Note that the below step by step guide works on all brokers that support PayPal. Simply ensure the broker you are using meets your Bitcoin trading requirements.
1. Visit a Broker's Website
2. Complete the Account Registration Process
3. Verify Your Bitcoin Investment Account
4. Choose PayPal And Deposit Funds
5. Complete The Purchase
You need a trading account with a broker of your choice to buy Bitcoin using PayPal. On this page, we share links that will redirect you to our recommended brokers' websites to complete the purchase. Remember that the above brokers have terms and conditions that you should understand before beginning the sign-up process. In addition, they have reliable trading apps that you can download and install on your mobile device to trade Bitcoin on the go. 
Once you are on a broker's website, you will see "register now" or "join now". Follow the command by sharing your personal details, including your name, email address, phone number, age, source of income, etc. The broker will also request that you create a username and password as a way to secure your trading account. This process is straightforward, and if you provide the required information, it will only take less than 10 minutes to complete.
Brokers regulated by the FCA have a standard protocol of verifying all traders' and investors' details before fully activating their accounts. This procedure guarantees safe trading and keeps fraudulent investors at bay. You will share documents that prove your identity and location, including a copy of your ID card, passport or driving license and a utility bill or bank statement. 
Once your information is verified and your account fully activated, you will be required to deposit funds and buy Bitcoin. At this point, choose PayPal as your prefered payment option, link your PayPal account with a broker, and make a deposit per the brokers' requirements. For instance, eToro's minimum deposit requirement is $50 and using PayPal to transact is free of charge. 
As soon as your deposit is confirmed by a PayPal crypto broker, you will be given access to its available asset offerings, where you will choose Bitcoin. Then, enter the amount of Bitcoin you wish to buy and complete the purchase. Some brokers like eToro will also allow you to invest in Bitcoin shares and trade the asset as CFD. Simply ensure your budget fits your trading style for maximum experience. 
Tips on choosing the Best PayPal Bitcoin Broker in The UK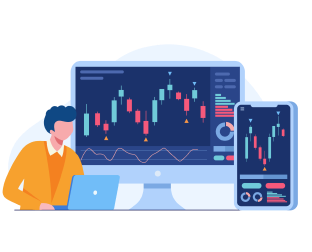 Buying Bitcoin with PayPal requires you to have the best PayPal crypto UK broker that meets all your trading needs. This allows you to trade under the best conditions and know that your funds and data are secured. While the above recommended three brokers are the best in this category, they may not suit your trading needs. This means going back to the market to research and identify other brokers to buy Bitcoin with PayPal in the UK.
It's a no-brainer that the UK market hosts hundreds of cryptocurrency brokers that support Bitcoin trading and investment. However, some of them are not legit, and you may end up getting scammed. To avoid falling victim to such brokers, below are the important considerations you need to make before selecting a Bitcoin broker.
A broker's reputation speaks volumes when it comes to securing your data and trading funds. Therefore, choose a broker that the Financial Conduct Authority regulates. Note that brokers regulated by tier-one authorities adhere to strict instructions and offer the best trading conditions to maximise traders' experience. As a trader, it is crucial to focus on strategy rather than worrying about your safety.
You need to get more value for money by choosing an affordable broker that fits your trading budget. Consider elements such as the minimum deposit requirement, commissions or spreads, transaction costs when buying Bitcoin with PayPal, inactivity fees, etc. Note that some brokers have hidden charges. Therefore, ensure you leave no table unturned before making a choice. 
The broker you use to buy Bitcoin with PayPal in the UK should have a user-friendly platform with customisable features. You see traders' experiences in the crypto market vary, and you want a broker that fits all skill levels to enjoy your experience even as you become more skilful. Our recommended three Bitcoin brokers above are beginner-friendly and host different trading platforms for all Bitcoin traders. Most importantly, a Bitcoin trading platform should perform speedy transactions, especially when trading Bitcoin as CFD. 
Another essential element to consider is whether a broker hosts Bitcoin and allows you to buy the asset using PayPal. You see, not all brokers allow PayPal as a payment method, and you may end up disappointed if you fail to confirm this factor. You should also consider the availability of other assets you are familiar with for portfolio diversification. 
If you are a beginner, it is crucial to trade on a platform with an excellent support system to help you out when trading challenges arise. Although buying Bitcoin using PayPal is pretty straightforward, you never know what other challenges might affect your activities. Therefore, choose a Bitcoin broker with a reliable and dedicated support service. Most importantly, the support service availability must fit your trading schedule. 
Pros and Cons of Buying Bitcoin With PayPal
Pros
PayPal is user-friendly and highly recommended for online payments
The mode of payment is highly encrypted and considered one of the most trusted
Transactions are quick and familiar with an already existing PayPal account
Cons
Besides brokerage fees, PayPal has additional transaction charges
Some brokers don't allow PayPal as a mode of payment
Conclusion
PayPal is an excellent payment method for buying Bitcoin if you want to avoid delayed transactions. Most importantly, you can link it with your preferred bank account and directly withdraw funds using the GBP currency. However, note that using PayPal does not guarantee successful trades. You must analyse the markets and develop solid strategies to increase your chances of making profits. Lastly, find the best broker to buy Bitcoin using PayPal and above, we recommend the top three to choose from.
Can I buy bitcoin with PayPal?
Yes. You can easily purchase Bitcoin with PayPal through online brokers that meet your investment needs. Finding such brokers can be an uphill climb, and for this reason, we recommend the top three above to choose from. 
Can you use PayPal in the UK?
Absolutely. PayPal is one of the most preferred payment options for making online purchases in the UK. However, note that you cannot use it to buy Bitcoin anonymously but create a PayPal account and link it with your preferred broker. 
Is PayPal safe?
Yes. PayPal is a safe payment option since it only allows you to use it once you create a PayPal account and fully verify it. This protocol secures the platform and keeps away fraudsters. Plus, the system has two-factor authentication, which we highly recommend you enable for more safety.
Do I pay a commission when buying crypto with PayPal?
Yes. PayPal will charge you a commission based on the amount of cryptocurrency you purchase. Also, some brokers charge commissions or spreads for transactions. Therefore, always confirm these charges and ensure they fit your budget. 
Do I need a bank account for PayPal?
No. You do not need a bank account to sign up with PayPal or make deposits and withdrawals. However, you are free to link your bank account with your PayPal account so that you can easily transfer funds when need be. Remember that PayPal to bank transactions and vice-versa may attract some additional charges. Therefore, it is essential that you confirm these fees before linking the two accounts.
Is there a limit on buying and selling crypto with PayPal?
Yes. Currently, investors can buy cryptocurrencies not exceeding $100,000 using PayPal on a daily basis. This limit is up from its previous $20,000 daily purchases, allowing investors to put more money into the assets. 
Can I buy bitcoin with PayPal?
Can you use PayPal in the UK?
Is PayPal safe?
Do I pay a commission when buying crypto with PayPal?
Do I need a bank account for PayPal?
Is there a limit on buying and selling crypto with PayPal?