NVIDIA is an American-based company known to design graphics processing units (GPUs) and system on a chip units (SoCs) to improve the gaming, automotive and mobile computing industries. NVDA stock is volatile and its share price has been increasing in recent years — an indication that the company will grow even further should there be a breakthrough with its artificial intelligence products.
Currently, NVIDIA shares are listed on the NASDAQ exchange under the ticker NVDA and if you are looking for ways to buy shares in NVIDIA, this guide will help you get started. Besides showing you how to buy NVIDIA shares, we have listed the top three brokers to maximise your potential. Additionally, we have included additional information to help you decide whether NVDA stock is worth an investment.
Top 3 Brokers for Buying NVIDIA Shares
Online brokers simplify the process of buying NVIDIA shares and so you need to find a suitable stock broker with access to NASDAQ where NVIDIA stock is listed as NVDA. The good news is that we went out of our ways to conduct research and recommend the top three brokers below.
Not only do these brokers allow purchasing of NVDA stock as a physical asset, but they allow you to trade the NVIDIA shares off NASDAQ as derivatives (CFDs and indices). The brokers below also let you buy NVDA stocks as fractions while being supported with impeccable trading tools. Let's take a look.
1. eToro
To buy NVIDIA stock with eToro, you will make a minimum deposit of £50. Additionally, there are no commissions for buying NVDA shares, and on top of it, you can trade NVDA stock as CFDs and indices. eToro also supports its clients with quality resources to help create the best strategy for trading NVIDIA shares.
eToro is the best social and copy trading broker allowing you to meet, interact, and share trading ideas like other global traders to advance your skills. The copy trading platform allows you to follow professional traders and mirror their trades to maximise your profit potential.
Unfortunately, eToro charges high spreads and withdrawal fees. Its copy trading platform is quite expensive to access and use.
2. IG Markets
Like eToro, IG Markets connects like-minded traders on its IG Community platform to socialise and share trading ideas. Using the broker to buy NVIDIA stock allows you to enjoy excellent platforms with quality tools for market analysis and skills advancement. These platforms include the L-2 Dealer with direct access to NASDAQ, the MT4, and ProRealTime. In addition, IG Markets allows CFD and index trading commission-free.
To buy NVIDIA stock, IG Markets requires a minimum deposit of £300, which can be expensive for most brokers. Spreads are high, and there are quarterly subscription fees for inactive traders.
3. Interactive Brokers
Unlike eToro and IG Markets, Interactive Brokers is a low-cost broker. Buying NVIDIA stock does not require a minimum deposit, and you get to make your purchase commission-free. IBKR also allows you to trade NVDA shares as derivatives at low costs. On top of it, you get to enjoy plenty of quality materials for research and learning. Alternatively, IBKR hosts a free trial or demo account to practise share trading before venturing into the real market.
One thing to note about Interactive Brokers is that its platform may be challenging for newbies to use. In addition, the broker's customer service functions only five days a week, which may inconvenience active traders.
How to Buy NVIDIA Shares With eToro
Many investors are sceptical about buying shares in NVIDIA because they do not understand the procedures involved. However, buying NVDA stock is easy for as long as you are familiar with the share market and conduct a thorough market analysis. In this regard, here is how to buy NVIDIA shares with eToro.
Step 1: Visit eToro's Website and Create a Trading Account
Step 2: Complete a Basic Knowledge and Margin Trading Test
Step 3: Identity Verification
Step 4: Make a Deposit
Step 5: Complete Your Purchase
You need to visit eToro's website and create a trading account before buying NVDA stock. Fortunately, we have shared links to easily redirect you to the broker's website, where you will be required to provide your personal information to create a trading account and choose a username and password.
Note that brokers have different trading terms and conditions and so we advise you to always go through the regulations and accept them before committing to eToro. Additionally, eToro has a mobile app, and it will be in your best interest if you install it on your mobile device to keep you monitoring your investments on the go.
Before your account gets approved to buy NVIDIA stock, eToro will select the most suitable trading package based on your skill level. To do so, you will be required to complete a basic knowledge. Additionally, there is also a margin trading test to determine a suitable leverage limit for you.
It is a standard procedure by all FCA regulated brokers to have all traders verify their identity to keep online trading safe and secure. For this reason, eToro will require you to verify your identity by providing a copy of your ID card or passport. In addition, you have to submit a copy of your recent bank statement or utility bill to verify your jurisdiction area.
The minimum deposit requirement at eToro is £50 for you to access NASDAQ and buy NVDA shares. Keep in mind that eToro allows transactions via different methods, including bank transfers, credit/debit cards, and e-wallets. Therefore, make sure the payment method you choose is reliable and transacts fast.
eToro will redirect you to NASDAQ, where you will search for NVIDIA shares using the symbol NVDA. To complete your purchase, choose the number of NVDA shares you can afford. You should also ensure you have conducted the necessary due diligence and are aware of all the risks that come with buying NVDA stock.
Luckily, eToro allows you to trade the NVDA shares as derivatives. As a result, you can either benefit from rising or falling prices (CFD) or combine NVDA stock with other companies' stocks in a single investment (indices).
Tips on How to Choose the Best Stock Broker to Buy NVIDIA Shares
You must be wondering how we got to settle for eToro, Interactive Brokers, and IG Markets as the best stock brokers for buying NVIDIA stock in the UK. The procedure was overwhelming and time-consuming since multiple tests and reviews were done. To help you get started in choosing the best stock broker to buy NVDA stock in the UK, below are the factors to consider.
Buying NVDA shares using an online broker is risky, and you must take all the necessary precautions to ensure that the broker you use is safe and trustworthy. Unfortunately, overlooking this element puts you in a vulnerable position of falling victim to scammers who have dominated the online trading industry.
For this reason, find a broker that the Financial Conduct Authority regulates. These brokers keep your trading funds in a separate account and offer the best trading conditions required by the FCA. This means that you can take legal action against them in case of any conflicts.
Reliability is a crucial element in choosing a stock broker to buy NVIDIA shares in the UK. You want a broker that supports you fully to maximise your profit potential, so check the amount of resources offered for strategy development. There should also be adequate skills advancement materials to bring out the best in you. These include learning content and a demo account to help you become familiar with the share market before risking real money.
Note that trading and investing can be fun activities once you get them right. In this regard, you need a stock broker with a trading app to install on your mobile device and keep trading even while on the move.
You must choose a stock broker that has access to NASDAQ, where you will buy shares in NVIDIA. You should also consider trying other financial market securities, and who knows, you might find an exciting tool for portfolio diversification. Additionally, the best broker to buy NVDA shares in the UK should allow you to buy NVDA stock as fractions or trade the shares CFD and indices.
You need to buy NVDA shares with a broker you can afford and avoid spending more than you had budgeted for. You see, trading is risky, and while you can earn profits from the activity, there are also chances of losing your investment money. Simply put, set aside the amount of money you can afford to lose and consider charges such as commissions and spreads, transaction costs, funding fees, minimum deposit requirement, etc.
During our research, we combined our test results with user reviews from Google Play, App Store and Trustpilot as a way to find the best broker to buy NVIDIA stock without being biased. By sampling user comments and ratings, you will know how it feels to purchase shares in NVIDIA using certain brokers. This helps you make the best choice since you will be aware of the broker's strengths and weaknesses.
A broker with reliable and responsive support service is worth considering since you are guaranteed adequate support in case you encounter trading challenges. You can test a broker's support service via its demo account by confirming how responsive they are and if they provide relevant solutions to traders' concerns or problems. Also, choose a broker that can be easily contacted, whether via email, phone or live chat.
NVIDIA Shares Price Today
NVIDIA share price is currently valued at around £318 as of 9th December 2021. However, it is crucial that you stay abreast with NVIDIA's current share price to easily track its performance and identify the best time to buy shares in NVIDIA.
The live chart below shows the current share price of NVIDIA. You can also make use of additional information like NVIDIA's historical data to develop the best strategy.
About NVIDIA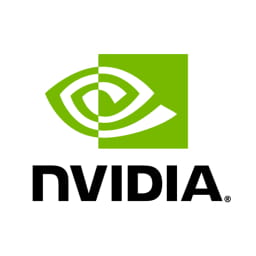 NVIDIA Corporation is an American-based multinational technology company founded in 1993 by Jensen Huang, Curtis Priem, and Chris Malachowsky. Jensen Huang remains NVIDIA's president and CEO, a position he has been holding since the company was established.
NVIDIA specialises in designing graphics processing units (GPUs) that are useful for professionals in the gaming industry. NVIDIA also designs and sells system on a chip units (SoCs) that benefit individuals in the automotive and mobile computing industry.
NVIDIA is currently headquartered in Santa Clara, California, the United States. The company strives to develop powerful GPUs while integrating artificial intelligence to enable computers to handle 3D and virtual reality games. Its plans to acquire Arm Limited will bring GPU and AI technologies to a broader range of markets, thereby increasing NVIDIA's revenue.
The share price of NVIDIA has been increasing in recent years, which led the company to announce a four to one stock split in 2020. NVIDIA has become a powerhouse in the semiconductor industry since its products can be found anywhere.
FAQs
Is NVDA a good buy?
Absolutely. NVIDIA share price has been rising in recent years because of the company's ability to develop and market powerful products that will bring about the changes needed in the gaming, automotive, and mobile computing industry. This shows growth potential, and investing in NVIDIA stock now might pay off in the long run.
Does Nvidia pay a dividend?
Yes. NVIDIA pays its shareholders quarterly dividends of £0.04 per share. So by purchasing shares in NVIDIA, you will also be eligible for dividend payments.
How often are NVIDIA dividends paid?
NVIDIA pays dividends of £0.04 per share on a quarterly basis.
What does NVIDIA Corp do?
NVIDIA corporation specialises in designing and marketing graphics processing units (GPUs) that are useful for professionals in the gaming industry and system on a chip units (SoCs) that benefit individuals in the automotive and mobile computing industry.
When was NVIDIA founded?
NVIDIA was founded in 1993 by three computer programmers, namely Jensen Huang, Curtis Priem, and Chris Malachowsky. Today Jensen Huang remains NVIDIA's president and CEO, with the remaining two co-founders holding senior positions in the company.
Is NVDA a good buy?
Does Nvidia pay a dividend?
How often are NVIDIA dividends paid?
What does NVIDIA Corp do?
When was NVIDIA founded?
Conclusion
NVDA stock is one of the best shares listed on the NASDAQ, and investing in NVDA stock can yield good returns in the future, especially if it makes a breakthrough with its artificial intelligence platforms. However, it is essential that you consider your investment goals and portfolio before putting up your money in NVIDIA stock.
In addition, conduct extensive market analysis and speak to financial advisors if necessary to fully understand what works best for you. When ready to buy NVDA shares, start by finding the best broker. You can choose from our recommendations above or find one by considering the elements above.